---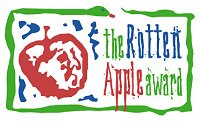 Miata Net likes to recognize the Miata Owner that is willing to fess-up to that particular circumstance you'd rather have done differently. In other words, "You won't believe the stupid thing I did with (or to) my Miata!" We hope you will all participate! Join in the fun!
Here are the Rules:
You must be a current Miata owner to participate.
You must be a Registered Member of Miata Forum to participate.
The incident must have involved you and your Miata.
The incident must be verifiable in some manner. It has to be an actual happening.
Submissions must be submitted via E-Mail to: RottenApple@Miata.net.
Submission should clearly describe the circumstances of the event. Picture(s) may be included.
A panel of never-to-be publicly named judges will select winners.
All submissions become the property of Miata.net.
To enter, your actual name and address must be included. You may choose to have your name published with the winning article or you may use your forum handle or a pseudonym. The judges like people who are not shy!
Send to: RottenApple@Miata.net
Take the time and share your shame!
---
---