Photo 7 of album BEGI AFPR Dissection/Mod
Prev | Up |&nbspNext | Click on the photo to view by itself.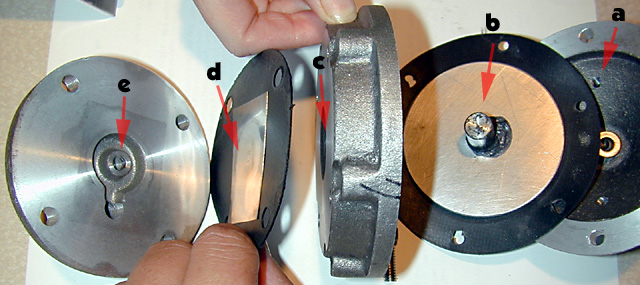 a)is where the boost pressure comes in and presses on the diaphragm forcing the piston b) through the center section c) and onto the back of the lower diaphram d).  The plate on d) is pressed onto the opening e).  Since the fuel cannot pass through when the pressure is up (caused by boost) then the overall pressure in the fuel rail to the injectors rises as well.  The bleed valve across from a) on the outside allows you to adjust how high the pressure will go in the top chamber, thus changing the full boost fuel pressure.  Very nicely done Corky!  BTW if you have "honking" in your AFPR you just rotate the upper diaphragm and put it back together.