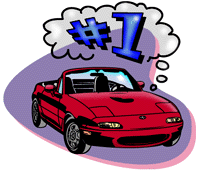 The Miata/MX5 of the Month from


---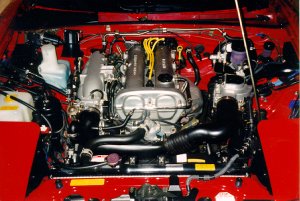 March 1997
Rob and Amy Young
Congratulations to Rob and Amy on the selection of their '90 Miata as our March Miata of the Month!

---
In the spring of 1989 it was time to look for something to replace my '82 Chevy Celebrity that had 120,000 miles on it. On "Motorweek" Rob saw a snapshot of an upcoming Mazda roadster called a Miata. Hmmm...sounded interesting, but I was trying to be practical. As with most of our Buckeye Miata Club charter members, the purchase of the Miata took on a life of its own. Once I saw it and drove it, I had to have it. After the test drive, the salesman made the easiest sale of his career, I'm sure. I felt fortunate in July, 1989 to pay sticker for my A-package red Miata with air conditioning and limited slip differential.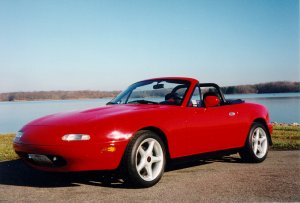 We did not receive our complimentary copy of the MCA Magazine, but read about the national club in a February, 1990 issue of Autoweek and sent our money in to become member #3835. The following May Don and Joyce Becker mailed invitations to local MCA members and founded the Buckeye Miata Club. We're coming up on our 7th anniversary and going strong. Rob & I have been very active locally and also enjoy travelling to regional and national events. In '91 we drove to Savannah for the 2nd Annual Eastcoast Rally, where Rob won 1st place in the Concours competition. In '92 we headed to Indy for the 1st Midwest Miata National, and Rob won 2nd place in the stock division of the Concours. In '93 we ferried across Lake Erie with our fellow BMC'ers and met up with the Trillium club for a weekend in Canada. In '94 we drove back to Indianapolis for Indy II, and Rob made it to 3rd place in Hot Laps/Stock. A week later we flew out to California for the 5th Anniversay/Homecoming event at Mazda R&D. We were able rent a new '94 Laguna Blue Miata for the weekend from Hertz! In '95 we flew out to Sacramento with our friends, the Perettis, to attend Gold Rush. Believe it or not, Bonnie Lutz let us borrow 2 of her Miatas! In '96 we made it to 2 events, Miata '96 in Toronto and Miata Games in Atlanta. We drove to Toronto, and Rob entered the Concours and won 3rd place "Stock". We flew to Atlanta for Miata Games, thanks to CAMS members, Betty and Ernie Frankl, who loaned us their BRG for the event.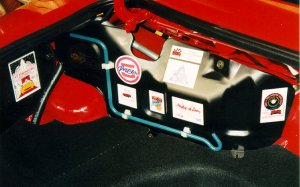 We have formed quite a collection of Miata "stuff", from dash plaques displayed in our trunk to models of all sizes, keychains, photographs and posters. We fondly refer to our upstairs as the Midwest Miata Museum, after Bonnie Lutz's museum in her home in Sacramento. Until last year our Miata remained basically stock. We went to the Chicago Auto Show in February, 1995 for the introduction of the M Speedster. By spring we had a set of the Speedster's wheels with BF Goodrich Comp T/A 195/50ZR15 tires. Also, a new rubber antenna added to the sporty appearance. Last fall we bought driving lights and the Racing Beat Style Bar I from the Crazy Red Italian, Dave DeNuzzo.
In 1997 we are as enthusiastic about the Miata as we were in 1989. Miata ownership improves with time. In appearance, the car is as strong as the day it was introduced. In addition, we have the benefit of friendships both locally and in other chapters across the country. We know so many people through the Miata, people we otherwise would not have met. Other cars will come and go, but we plan to be able to look at our '90 red Miata 30 years from now and happily remember the people and places it led us to.
Amy & Rob Young
---
---