---

The MX-5 Miata of the Month from


---
August 1997
Tina Koyama
Congratulations to Tina on the selection of her Miata, as our August Miata of the Month!

---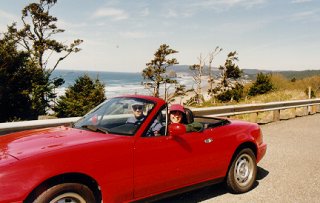 Even when I was as young as five years old, I started forming the fantasy that I would someday drive a red convertible. My much-older brothers - they were 20 and 23 when I was five - both drove convertibles (the leaky European kind) at some point in their youth, and when they would come to visit, I would watch them noisily pull up to the house with the top down, and I decided it was the ultimate vehicle of free-spirited independence.
Picture this as I did: Me driving down the freeway, long hair streaming behind me, my beautiful red convertible making that VEEEUUUM - VEEEUUMM sound as I shifted gears, turning heads as I passed cars on both sides.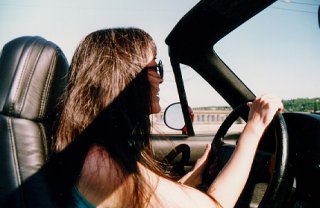 I kept this fantasy tucked away through more than two decades of a Toyota Corolla and a Mazda GLC (a sedan, no less). But in my heart, I knew it was only a matter of time.
The year the first Miata came out, I knew I had found the car of my dreams. Unfortunately, the timing was wrong financially, and some stodgy, too-practical part of me felt guilty getting rid of my GLC when it still had many good years left.
Then, last September, I finally met my destiny in the form of a couple key life events coming together. First, I decided to leave the government job I held for 11 years to take a contract position at a major software company - quite a change in attitude. Then, a week before I started my new job, my stalwart, rusty, totally boring 13-year-old GLC got stolen while parked in front of my house. It was a Sign. I told myself, at the age of 37, that it was time to dust off my fantasy and get a car to match my new attitude.
I bought myself a red 1996 Miata.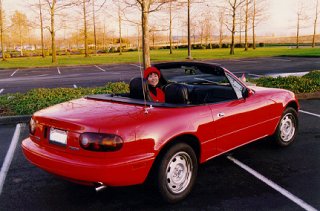 Here is where fantasy turns to fact: Long hair (mine is down to my waist) does not stream back behind one as one is driving down the freeway with the top down - it blows forward. All those TV convertible ads must have been filmed with a huge fan blowing into the driver's face from under the dash.
But that part of my fantasy aside, I love my red Miata. It's sleek and simple (the only extras I indulged in were leather after-market seats and a vanity plate), but it's me. When I drive it, I am five years old again.
---
---
---