---

The MX-5 Miata of the Month from


---
November 1997
Jeanne Pandes
Congratulations to Jeanne on the selection of her Miata, as our November
Miata of the Month!

---
Spring of 1989 was an important period in my life. It wasn't just because I had finally graduated from college after what seemed like a lifetime of schooling. More importantly, Spring of 1989 was important because my favorite automobile magazines were raving about a new convertible sports car, the Miata. Accolades were flowing for this affordable roadster that'd provide a driving experience reminiscent of the sports cars of the 50's and 60's. But these were just words to me. Heck, I wasn't even born until the mid-60's. My experiences with roadsters were purely second-hand. I'd drool over my friend's stories of top-down driving in his Austin-Healey roadster. Except each story had the subliminal message that I'd better be a certified mechanic if I owned one. The Miata was different, and I was drooling all over again. This time, it was over a car that was simple, stylish, and sporty. My first test drive was a few months later. I was hooked! This was the car for me.
Except I had one problem. I was still making payments on my (too) reliable Mazda 323DX, and the practical side of me knew I wouldn't compete with those who were snatching up the early-Miatas for over sticker price. As a consolation, I kept one of the first ads of the '91 BRG Limited Edition on my wall at work so I could drool at leisure. The next few years, I lusted over Miatas I saw on the road, which I daydreamed I was driving instead of my econobox-of-a-car. On some bad days, I'd wish that my 323 would roll off the side of a hill, and die! But, it never did.
In a couple years, I went shopping and bought a townhouse. With the spare change, I fatefully bought my very own black and tan '92 Special Edition. It was like taking home a newborn! My trusty 323 wasn't getting quite the attention anymore. Immediately, I began planning road trips here and there, ... anywhere. With the Miata, the most desirable route from point A to point B was the least-direct, least-traveled, windiest road possible. I couldn't give a hoot about taking either the shortest, or quickest route from point A to point B. I bought a very modest selection of Miata-necessities: tonneau cover, 12-CD changer and head unit, lighted rear-view mirror, Crazy Red horns, mud flaps, car cover, JR anti-sway bars, Miata.net sticker, etc., .... I cut my hair Miata-short, and started using the word "Miata" as an adjective.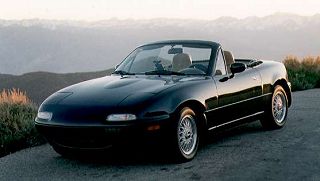 Two months later, I took my first Miata-road trip down the California Coast from Bodega Bay to Santa Monica along the scenic Pacific Coast Highway, Hwy. 1. Several times a year, I'd also make trips to the Eastern Sierra Nevada mountains. Top-down driving on the many winding, tree-lined roads was bliss for me. The one down-side was that the Miata's low ground clearance kept me from bumping around on the off-roads that I used to breeze over with a buddy's 4-wheel drive. But, it was a small price to pay for an otherwise wonderful ride. Cheap therapy!
Whenever I could, I was on a road trip taking the long route to places like Abiquiu, Acoma, and Albuquerque, New Mexico; Zion and Bryce, Utah; Sedona and Grand Canyon, Arizona; and Baja California. I never had the problem of wishing I had more room to pack my things. Instead, I was amazed at what I *could* pack in the Miata!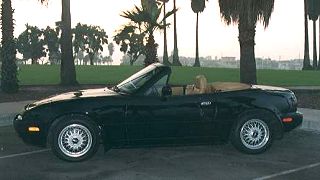 The Miata also suited me just fine since I flew solo most often, and I didn't have another person's luggage to tote along. 90% of the time, I had the tonneau on and the music turned up.
Well, that all changed years later when a bunch of Miata owners got together for a drive along the Pacific Coast Highway here in Los Angeles, California. One of the Miata-guys and I became friends. Soon, we became more than friends. Soon, we were taking road trips together. I was no longer flying solo. Admittedly, it took more coordination and organization to get both of our stuff packed for long trips in a Miata. But, after a few tries we had it down pat. Sometimes we'd take his Miata, sometimes we'd take mine ... sometimes we'd take both. To this day, it isn't uncommon for us to attend some Miata club events in separate cars just so both of us can enjoy the drive. As you know, the Miata is most fun when you're behind the wheel.
September-October of 1996, we spent 29 days in his Miata on a trip around the United States (http://home.earthlink.net/~jppandes/M-crosscountry) . Friends questioned whether we'd survive 29-day straight days together. Well, we did. And, we had a blast! Luckily for us, we were still talking to each other after 29 straight days together -- in a Miata. We were even talking about the next extended road trip even before that one was over. That was a good sign. A month after returning from our trip, we announced our wedding engagement.
And, as timing would have it, November 8, 1997 will be Jaime Villacorte and my Wedding Day. Yup, that's this month! On that day, not only will I be marrying my Best Friend ... but I will also be getting a new Miata! His '94 Laguna Blue!

---
---
---