---

The MX-5 Miata of the Month from


---
May 1998
Sisco Tello
Lincolnshire, UK
Congratulations to Sisco on the selection of his Miata, as our May
Miata of the Month!

---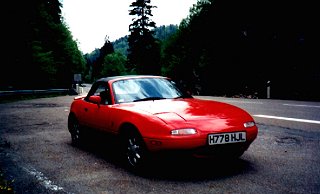 I don't generally partake in any sort of contests, etc., but this time, as it's to do with my MX-5 (if you allow me to use its British name) I will make an exception.
Some people may think that an MX-5 would be the most strange company-car that one could have. Nevertheless, that is exactly what it is: my company-car. It's a 1991 classic-red 1.6, registered on 02-Jan-1991 in Boston, Lincolnshire (UK) (its 7th birthday will soon be coming up). Our company adopted it only 4 years ago, and although we're allowed to change car every 3 years, I hope to be able to keep it for many more years. After all, what's 90,000 miles?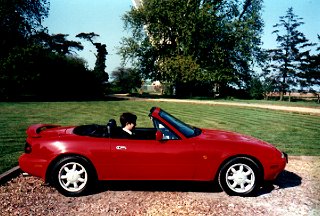 Annabelle and I got married in May 1996, and what would our honeymoon been like without our MX-5? So, we decided to take it with us, as far as Switzerland. Last May 11th, for our first wedding anniversary, we decided to take it to Bruges, in Belgium. Last July we took it all the way to Barcelona, in Spain! (to proudly introduce it to my parents) - a total journey of nearly 3000 miles return. Finally, last september we took it to Belgium again, this time to visit Brussels. So, it can't say it hasn't seen enough of this old continent! We try to get a picture of it wherever we go, so we have "MX-5 in Paris", "MX-5 on the Swiss alps", "MX-5 in the Spanish Costa Brava", etc.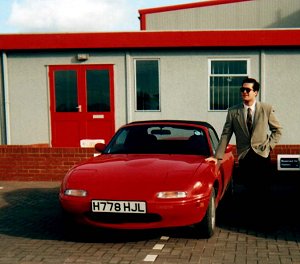 Being it a company car, I am very limited as to what modifications I can make to it, not that I am very bothered, as I think its looks don't need any changes at all. It's still even got the original alloys, which by now are starting to get a bit tatty. Nevertheless, the body is perfect, as I make sure it's perfectly valeted inside and out every week. (One thing I've managed to change is the knob on the gear stick, it's now got a polished aluminium voodoo knob and a new leather boot).
Its current registration number is H 778 HJL. English plates are a bit big and chunky, but by the middle of next year I'm planning to purchase a personalised plate when the "S" reg. comes out in August. Hopefully I'll be able to lay my hands on S 1 SCO, reading "sisco". That'll make it look real smart!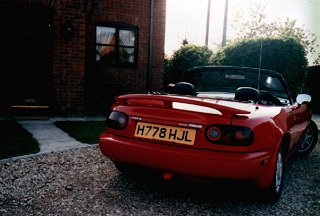 ---
---
---