---

The MX-5 Miata of the Month from


---
September 1998
Tim Evans
Dallas, Texas
Congratulations to Tim on the selection of his Miatas, as our September
Miata of the Month!
---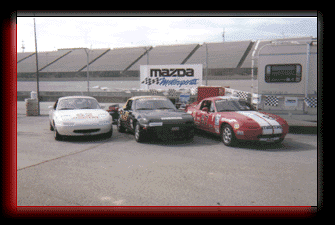 One of the best parts of my life started when I decided to get a Miata (well, actually four of them). I looked high and low for a Mazda dealership that would work with me on a new Miata but to no avail. After months of "it's sold already!", I finally found a mint used 1990 Silver Miata. This of course was the color I really wanted and 1993 was a year that you could not get Silver on a new Miata anyway, so I was really pleased and saved a few bucks in the process.
Fast forward to January of 1997: After coming back from my honeymoon, I had a message from "Mad" Merv Stauffer that there was a 1994 White Mazda Miata R model on a local dealership's lot. The dealer thought it was a base model and was selling it for wholesale because it had been on the lot for awhile.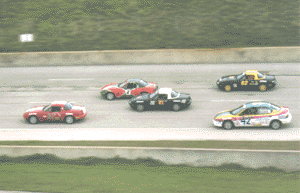 You're probably asking why do I need another Miata? (I know!! Please play along... everyone knows that one isn't enough) Well, a few years earlier I attended a racing school and had set my mind to buying a Spec Racer Ford to race in SCCA Club Racing. Luckily, I met "Mad" Merv and he showed me the light! You see he races a Showroom Stock Mazda Miata which made me think to myself: "Wow, you mean I can race the car that I have come to know and love!"
As I got more experience road racing my Miata, I decided that I needed a dedicated road racing Miata. The 1994 Miata R still had A/C and airbags and I couldn't bring myself to remove them (the 1994 doubled as my street car). So when I saw a 1996 Black Miata already set up for road racing via Miata.Net, I decided it was time to upgrade. I flew to Sebring and test drove the racecar. First time on the track, I beat a couple of those pesky Neon's and was ecstatic. Since then my 1996 and I have won two 1st places and three 2nd places.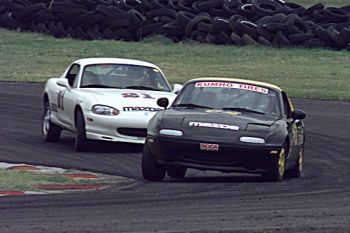 Meanwhile my 1990 Miata has been on an extended trip with a California Miata club member on assignment here in Texas. So woe is me that I should own 3 Miatas and never be able to go topdown. Somebody was listening to my prayers (The good Lord must drive a Miata) as I always said if Mazda ever made a new Miata in Silver, I would get one in a heartbeat. So on Friday the 13th, I picked up my 1999 Silver Miata Sports package and the first thing I did was drive to the Lone Star Miata Club of America chapter meeting to show it off.
My first new car ever and the first time in 1998 that I was able to go topdown. I thought I had my addiction under control but I guess deep down inside I'm really just a Miata fanatic!! Of course, that's not really a bad problem to have...
---
---
---