---

The MX-5 Miata of the Month from


---
October 1998
Keith Sundiang
Manila, Philippines
Congratulations to Keith on the selection of his Miata, as our October
Miata of the Month!
---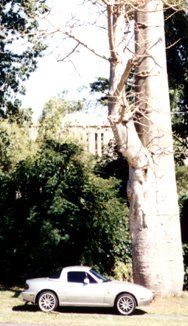 Greetings from the Philippines. The Mazda Miata might have been introduced to the world in 1989, but here in Manila, Mazda dealers only started importing it last 1995. This was due to import restrictions of our country and also to the small car market here (as compared to Europe and the US). They started selling Miatas for P.760,000.00 (Philippine Peso). This would roughly convert to about US$28,000.00. The Miatas are the basic models with 1.6 liter engine, 14" alloy wheels, AM/FM stereo, 5 speed manual transmission, with removable hardtop (presumably because we seldom can use our Miatas with the top down because of the heat in this part of the world). If you want to have the other optional accessories like the leather package or the touring package you have to import them on your own, or look for them at specialty stores and hope they have them.
My love affair with the Miata started in the summer of 1996. While working on a project, the owner of the shop next door came in a fully dressed Classic Red Miata. WOW!!!! From then on every time the guy came in all eyes were on his Miata. The Miata was way out of my budget at 28 thousand dollars (exchange rate at that time was P26=US$1, this was before the Asian currency plunge). And besides my family (my wife and 3 kids) already own a Civic, a Sidekick (called locally a Vitara) and a City (an Asian peoples car made by Honda). I couldn't convince my wife to shell out 760 thousand pesos for another car. She would always say "but we don't need another car!!". Well she was right. So all I could do was look in envy and dream.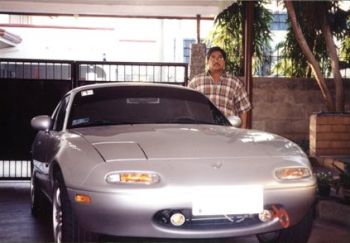 Well, 1997 came and as we all know the market in Asia started to plunge. The car industry was greatly affected. Fewer people bought cars cause they would rather speculate in the currency market. With the fall of KIA in Korea the dealers of Mazda (also the dealer of Kia in the Philippines) started lowering their base prices. To attract even more customers the dealers of Kia and Mazda gave out a 1 thousand dollar rebate (exchange rate now is US$1=P30.00). With all the discounts, the Miata was now priced at P 560,000.00. WOW!! This is a bargain. Now if only I could convince my wife.
Convincing her wasn't easy. She found an ally in her sister. They viewed sports cars as cars for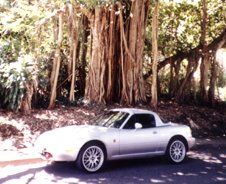 D.O.M's (dirty old men). They say, "these cars are not for someone with a family", "how can your family go with you if this is just a two seater", "this car is very impractical", "this car is for picking up babes" This is basically their point of view. I would on the other hand reply by saying that "I am just a lover of good cars and not a lover of babes. I won't go out and pickup chicks, I am a family man and not a D.O.M.", " I want a Miata because its well built, its dependable and fun to drive."
I've read a lot about the Miata, and the more I read,(now with the Internet and MIATA.NET) the more I get addicted to it. I would often tell my cousin Rene that I would place bets on the Lotto so if I win I could get me my dream Miata. The break I needed came early in December 1997. Well, I didn't win the Lotto but slowly and surely I was focusing all my energy and resources into acquiring my own Miata.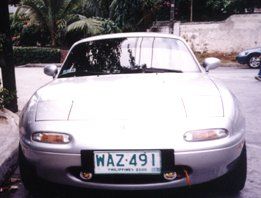 Convincing other members of my family was the key. Here in the Philippines we have very close family ties. So close in fact, that the oldest member of the family always has a say on everything. With this, after convincing my mom and dad the battle has been half won. But the killer comment came from my older brother during one of our Sunday family dinner. While the ladies were reiterating their position about the impracticality of the Miata and how it was not a car for a family, my brother blurted our in his strong authoritative and forceful voice, "This car is not a practical car! There is nothing practical about this car! You don't buy this car because it is practical! Buying this car is a decision of the heart!!! You buy this car because you love it! You buy this car because you want to feel good and happy! The decision to buy a Miata is a decision made by the heart (he points to his heart) and not by this (he points to his head)." All the ladies were dumb founded while the guys all cheered, Yah!! Then he followed it up by saying "Keith, I'll help you break it in!". "Sure, no problem." I replied smiling. Thanks big brother. The rest is history.
---
---
---