---

The MX-5 Miata of the Month from


---
May 1999
Shannon Arnold
Orlando, Florida
Congratulations to Shannon on the selection of his Miata, as our May
Miata of the Month!

---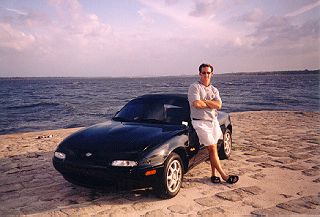 I can remember the first time I saw a Miata. It was during my Sophomore year in high school (1990). One of my friends just bought one. Well, his parents gave it to him. "Must be nice", I told him. It was silver and very AWESOME. At the time, I drove a "Brown Beaster," that's what I called it! It was a brown 1980 AMC Concord station wagon with wood side paneling on it! It was not a pretty sight to look at. I saved some money to buy my sister's Chevy Cavalier RS. It was a step up, but still not a great car. In the next 8 years I owned a 1981 Toyota 4x4, 1985 Cougar XR7 turbo, 1988 GMC S-15, and a 1994 Ford Ranger Splash.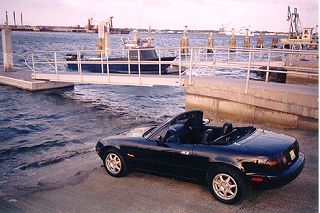 Last March I bought a 1995 Miata. I was in the dealership for about 4 hours until I got the deal I wanted. I ended up getting a beautiful, 1995 Brilliant Black lease turn in with 28,000 miles on it. Here is where the story gets interesting. This was the last Miata I looked at because it was a lease which had been turned in just the the day before. The dealer told me they were not sure how much money they had in the car but they will take a guess on a price to fit into my budget. I told them, put new tires, detail and run the car through service and we had a deal. Since it was so late that evening, they told me to come back in the next few days and it would be done. I asked them to put it in writing. The next day I got a phone call from the dealer saying he needs to talk to me. So off I went to the dealership. I arrived a short time later, and he immediately began to tell me they need the car back because they sold me the car for $800 less than they were supposed to sell it for.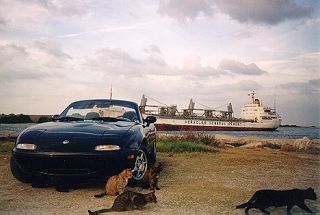 I was totally confused and very upset. They told me they could put me in another Miata for the price I paid for this one. I looked at it and said no! It had 2,000 less miles but, no power windows, locks, alarm, cruise control or any other features my car had on it. After I told them no, they said we'll give you your truck back and refund your down payment. I said hell no! I paid for this car and its a done deal. They asked me to pay the $800 difference. Again I said HELL no! Then it was pay $600. Every time I said no the price difference went lower and lower. Finally they said okay, we are sorry about this. I brought my car around to the service department to get the new tires and service done, but the service part of the agreement was scratched out. I asked the attendant about it and he told me to see the salesman. I went to him and once again got the run around. Exasperated, I finally went to the owner of the Mazda dealership and it was authorized.
The end result was, they lost my business forever, but I left with car I bought the day before for the price we originally agreed to! This is an unbelievable story, but a true one!
---
---
---