---

The MX-5 Miata of the Month from


---
February 1999
Craig Hargis
Satellite Beach, Florida
Congratulations to Craig on the selection of his Miata, as our February
Miata of the Month!

---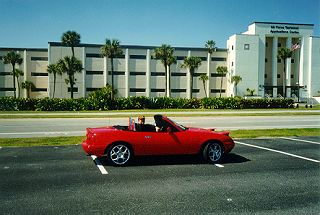 It all started in the summer of '92 - I was starting the 11th grade and saving for a car. I worked at a restaurant that played Frank Sinatra and big band music. I was a teenager living in a Geritol world, but I saw a Miata at the end of that smoky, perfumed tunnel. I saved $2500 dollars that summer for a down payment, but Mazda did not have a table busser in mind as a potential customer for buying a Miata, new or used. I could not afford the payment and insurance on a busser's salary. So I got a Sentra instead.
I kept my eyes peeled for a used Miata in the paper all the time. Then about two years later in the classified section - Blue, automatic, new top. 8500 bucks. I thought destiny was about to happen - until I got there. The car had been stolen, but the owner got it back. The seats were horrible and I guess he was using dog urine as an air freshener for the car. Destiny did not happen and it smelled as bad as it felt.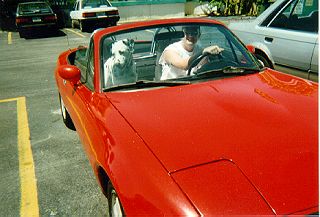 I continued my search for my Miata, while driving my faithful Sentra. During my first year at the University of Central Florida my Sentra with 160,000 miles on it started to show its age. I was fixing this car more than I was driving it. While replacing the alternator in the parking lot of an auto parts store, I looked across the street and saw a Mazda dealership. I headed over there with my oily, dirty hands and my senile Sentra. I felt that today, destiny would finally happen - or at least I was hoping. As I pulled in, I saw a Red 1991 with less than 40,000 miles on the clock. After hours of dealing with those nice people at the car dealership that we all love to deal with, I was $1500 from making it out of there in a young and
vibrant Miata instead of the Sentra that needed a walker. The sales manager asked me if I had any thing I could else I could trade in. I thought for a minute and realized that in my garage was the world's most expensive flotation device - a jet ski that liked to eat money and never worked properly! To my surprise, he said he'd take it!
Life was good! Now, three years and a lot of modifications later, including TSW 16 inch VX-1 wheels, I still think back to those days in that restaurant as I'm listening to Frank Sinatra with the top down cruising A1A.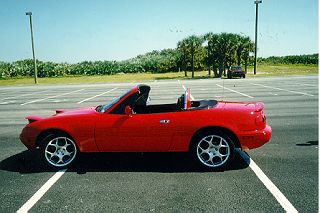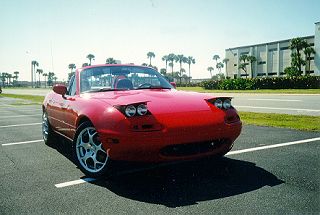 ---
---
---