---

The MX-5 Miata of the Month from


---
March 1999
Jason Lammers
Millbrae, CA
Congratulations to Jason on the selection of his Miata, as our March
Miata of the Month!

---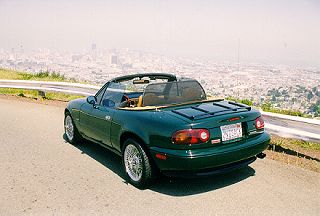 My Miata story begins 7 years ago when I was 20 years old. I have been driving a 89 Honda CRX that was given to me by my father upon graduation from high school. It was red, brand new and okay to drive. Driving it for two years was very unsatisfying and my interest in a new car was high in the summer of 91.
I began looking for cars and finally decided on two models; a Miata or a Camaro Z28 convertible. I test drove both cars three times before finally deciding on the Miata. I was test driving a red Miata and was happy with it until I walked onto the showroom floor and saw a "Fresh off the truck" British Racing Green Miata. I sat down in the drivers seat and wrapped my hands around the steering wheel and only imagined driving a car like this. The leather seats felt like hard butter (butter right out of the fridge) and the wood shift knob felt like something from old world Britain. I was instantly in love with this car.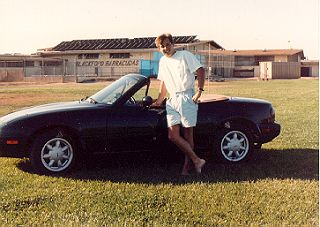 The salesman was less than interested in selling the BRG to a young kid like me wearing shorts and a T-shirt. I think he thought I couldn't afford such a car and perhaps he was right as the first two years were hard on me to make the monthly payments. He checked my credit and realized that I was very eligible to purchase this car and moved to the BRG as the car for me. The dealer had a $10,000 dealer markup on the unit with a final asking price of $31,245. Even though I was a young kid, I laughed at him and said "I will pay MSRP and that is it, if we can't settle on that price, I am out of here!" We did finally settle on MSRP and I drove it home t hat night.
I was a fan from that night on. I joined the Miata Magazine and took extremely good care of my new baby.
During the past seven years, my BRG has been garaged everyday and has only been driven in the rain once. Needless to say it still looks brand new. It has 48,890 miles on it and I loved every one of those.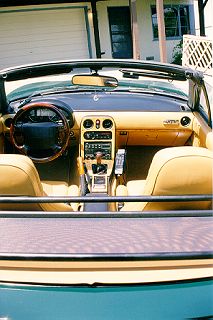 I have added numerous extra's to the car:
Jackson Racing cold air induction
Flying Miata Strut brace
factory fog lamps
Stainless steel grill cover
I painted the word "Mazda" bright red on my valve cover
Moss Motors wood steering wheel
Wood dash
free flow exhaust
Oris/ASC Windblocker
Seat Heaters
All body braces (I.E. rear axle, front cross member, etc)
Eunos Emblems
and many more small items.
I love this car just as much today as the day I drove it home from the dealer. Although I have gained 20 pounds and could easily afford another more luxurious car, I do not want to part with my baby.
Yesterday, a few teenage girls were walking home from school and yelled "Nice Car!" I said thanks and a huge smile never left my face for the rest of the day.
With all of the minor modifications I did to my baby, it looks very unique on the road. I wanted to keep my car original looking but added small touches here and there to customize my car without looking gaudy. Even though it is 7 years old, it turns just as many heads today as the day I bought it.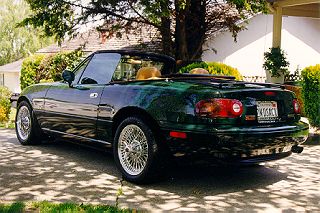 This car always brings a smile to my face. It is a form of therapy for me that is incomparable. Whenever a bad day strikes, a drive down the California coast with the top down always spells relief for me. I even joke around when the Rolaids commercial comes on and they ask...How do you spell relief? M-I-A-T-A has always been my answer.
Miata.net has been a great resource for me. I usually check them out once a month for new products, reviews and maintenance tips. I am glad you are here!
This car has literally changed my life. I hope to never part with it.

---
---
---