---

The MX-5 Miata of the Month from


---
May 2000
Bruce and Deborah Collins
Congratulations to Bruce and Deborah Collins on the selection of their Miata as our May
Miata of the Month!

---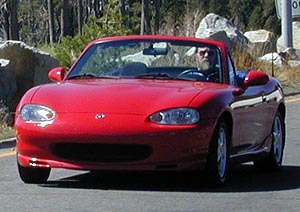 I had a jaded youth. I grew up in the '60s driving MGs and Triumphs and one beat up old Austin Healy. I never touched a Lucas lighting system that didn't go dark at some critical time. It got so bad that I was known by some of my friends as the prince of darkness. My final love affair with these magnificent machines was with a red Triumph Spitfire that was the most evil handling beast I ever drove. In the middle of any swiftly executed left hand turn it would hike it's drivers side rear tire in a canine like salute to every tree we passed. Life was exciting indeed.
This all came to an end when in 1971 I took Deborah, my new bride, from California to North Carolina where I was finishing my obligations to the United States Marine Corps, Uuraah! I sold the Spitfire and bought her a sewing machine. The sewing machine behaved considerably better than the Spitfire. With it she was able to keep us and our child clothed. We still have it.
Throughout the years I was reasonably responsible. The only crises we had was when in 1976 I seriously contemplated spending my first years law school tuition on an Austin Healy 3000 that was beautiful to behold. They were priced the same and I still think the Healy was the better bargain.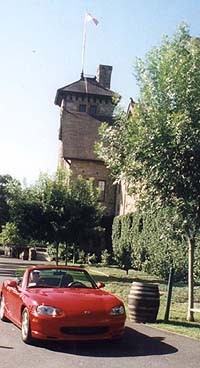 For years I proclaimed that my next car would be a Miata. It was almost the only sports car left. That kind of loyalty to those of us that love them seemed like it should be repaid. This spring I took my still lovely bride for a test drive in a 1999 Miata. We left the dealer at the lot and went in search of corners. By the time we returned my Lady had a strange glint in her eye and I was mumbling. She asked me what I said, and I repeated soul food! She said "This is fun. You need this. Buy it now!"
We calmed down a little and test drove most models every dealer within 100 miles had on the lot. Every option was great, as was every color. However, proving that she has really understood me for the past 28 years Deborah told me that a mid-life crisis should and could be red, but no redheads. So, the first Miata we drove went home with us a week later with my wife proclaiming that with the exception of the redhead she was returning me to the way she found me.
This car is wonderful. It handles like a slot car. I can't get this grin off my face and I have yet to meet anyone who doesn't match my grin just watching us have fun in it. My little red car has brought back to me the enthusiasm I had for driving in my youth. I guess that is what a mid life crisis is all about.
The fun continues. Very early on the morning after we brought our little red car home with us we left the following note for our home from college daughter: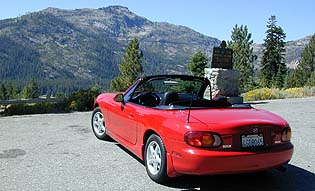 Dear Brandy,
We went to the coast for fog and coffee. We would have taken you with us but we only have two seats.
Love, Mom and Dad
I'm not mumbling now. Every time I walk up to the little red car I'm laughing, "It's not a Singer!"
Bruce Collins

---
---
---