---

The MX-5 Miata of the Month from


---
September 2000
Russel Rudez and Max
EunosRoadster99@aol.com
www.outlaws.main-page.net
Congratulations to Russel on the selection of Max as our
Miata of the Month!

---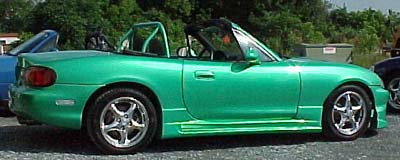 In August of 99, my '98 Eclipse GS was having foul engine problems so I began searching for a new car. I thought, "What do I want??" Which is unusual because every time I decided to buy a new car - I knew what I wanted. I didn't want to pay nearly $6000 for a new engine for my Eclipse, so I began my searching. I looked at used 3rd Gen Rx7's, a '99 Turbo Eclipse and I thought, "hmmm…been a while since I had a convertible.." and it got me thinking…Mom traded her 97 Miata M-Edition (Marina Green w/ hardtop/ abs/ ect.) for this Eclipse, maybe I'll go look at the new Miatas. I did just that.
I went to Heritage Mazda of Bel Air and on the showroom floor was a black '99 Touring with appearance pkg. 1. Very cool! Went home, told dad I was going to buy a Miata, and I went back the next day..SOLD! Oh no!! I talked to my salesman/ friend Wil Wells about this and he said, If you really want one, I can get you one. So I said, yeah, see if you can find me a 99 Touring. So he did. He said "I have a 99 red at our Owings Mills, MD store" I told him to get it and handed him a check for $6000 as security/ down payment.
Later that afternoon, he went and got it. I was at work while he was picking it up and didn't get off until 9pm that nite. As soon as I got off work, I went .5 miles to the Mazda dealer and saw my miata…a red 99 with app. pkg. 1 and foglights…wait, the other one didn't have foglights! (They ended up giving it to me for free). The next day, I was set to pick it up. Handed over the keys to my Eclipse and drove home. I had the biggest smile…I thought I was going to run out of skin on my face. By the end of that nite, my cheeks were hurting.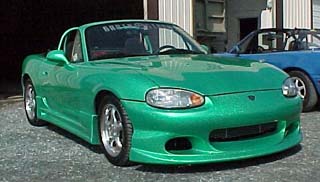 Well, the next day, I went to work and put my 99 on the lift. I pulled the sways off, the springs off and the exhaust and intake off and replaced them with parts from Racing Beat/ Brain Storm and Weapon R. That night, I went for a drive and I heard "Max"……"Max"……"Max"……(I read on the list that a name comes to you)..well, the name stuck, and "Max" was set in stone as my 99's name.
Time went on, I got the body kit (supposedly 1st on the East Coast, 2nd in the USA). I bought a set of 17" TSW VX1's a style bar, and more and more parts started going on. Before I knew it, I had so much on my car, that it took me forever to list off my mods to the car. Later I added Koni adjustables to round out the suspension equation.
On May 16th, 2000 (10 month anniversary of owning "Max") the unthinkable happened. It was a cloudy, misty day, roads were wet. I was coming around a 90 degree bend and a Camry coming the other way couldn't make the turn. My poor baby was hurt. The rear wheel took most of the hit as well as the rear ¼ on the drivers side. Two days later "Max" hit the body shop. I took him to my old work/ good friends shop; Auto Eurotec, Inc. in Bel Air MD. They are known for doing awesome paint jobs and outstanding body work.
I was out with Amber one night and said, "Ya think I should change "Max"? Amber wondered what I meant and I said.."Color, should I change it?" She agreed and we began picking colors. First it was green to silver chrome illusion (flip flop paint), then Sunburst yellow, then Silver with a red pearl, then BRG, then Green Prismatique. I saw it and knew it would fit "Max" just right.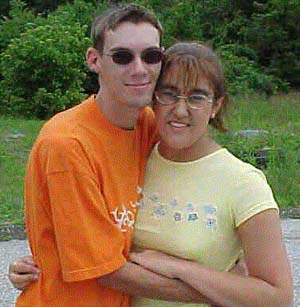 While in the shop, I called on my buddies at Brain Storm Products and TSW. I needed parts..It was out of commision, I had time to install, lets rock! BSP sent me a set of white face gauges, a classic fuel lid, sport grille and a window logo. TSW Alloy Wheels sent me a set of 17" Chrome Revo R wheels and I had the new Yokohama Parada (205/40) tires mounted. "Max" had a new look.
I found the 17's were giving my brakes a workout, so Tommy at Finish Line Performance sent me four Power Stop rotors, Goodridge SS lines and VGX pads. Now were talking.."Max" stops as if I had the stock 14" Alloys back on!
So here we are, present day, not much has changed, I have added a few gizmos here and there. The big jump will be the addition of forced iduction. Should go on in a few weeks.
Thanks to Amber my Fiancee (as as 7/28/00 at Deals Gap!!) for putting up with my CONSTANT "playing with my Miata" (as she calls it), thanks to Mom and Dad for their help along the way, thanks to Jackson Racing, Koni, Brain Storm, Weapon R, TSW Alloy Wheels, MSD for making some great products and for the support!
Russell Rudez and "Max"
---
---
---