---

The MX-5 Miatas of the Month from


---
February 2001
Lilian Casselberry and The Runaway
Lil32718@aol.com

Congratulations to Lilian on the selection of The Runaway as our February
Miata of the Month!

---
WHAT A WOMAN WANTS… How does a single woman find true love? I didn't know. My last love, a red 1996 Chrylser LeBaron, had left me stranded in traffic one sweltering summer day with absolutely no notice. Feeling frustrated and jilted, I sat there wondering, "What did I do?" Although somewhat temperamental, he had been my dream. I wanted desperately to repair our relationship, but after talking with the mechanic I knew the price was too high. Finally I accepted the fact that our love affair was over.
Starting over again is never easy. Where would I find The Right One? Half-heartedly, I looked in the ads and even online. Some of them sounded really nice, almost too nice. I wondered, if they are that good why are they available? I didn't want just any one. But what did I really want?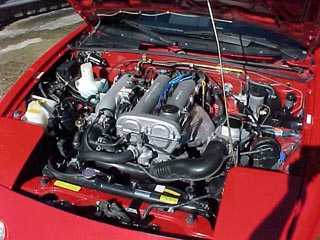 Because we would go so many places, we had to look stylish together. To make our long hours together memorable, he had to be fun. I wanted versitility. And would it be asking too much if he were so reliable enough to take care of me without demanding too much time and money? I could only dream.
When I finally saw him, I hesitated. Could he be my one and only? Then a friend coaxed me, "Go ahead. What have you got to lose? Just go out for a half-hour. If things don't work out, at least you tried."
STYLE - Admittedly, he looked cute… and he was available. Realistically, however, he was a little shorter than what I was used to. He was older (a 1990), but had been kept in storage for all but 17,800 miles. He was in such good shape he belonged in a museum! How could I ever put him on the road? Once we went for a ride, however, all my inhibitions flew out the window. It was love in the first quarter mile.
FUN - Many people take great time and care in chosing a pet name for their love. Not me! I immediately gave him the same one I'd given my previous four cars. The difference was that I had the right name all along, but this car brought the name to life. This one was definitely The Runaway!
We have lots of fun while we're on the road. He loves to play my kind of music -everything from the soundtrack to Animal House to the Three Tenors. Music is an excellent way for me to express how much I love the life we have together - "Like a band of gypsies we roll down the highway, insisting that the world be turning our way… down the highway. On the road again, just can't wait to get on the road again…." Yes, that's "our song."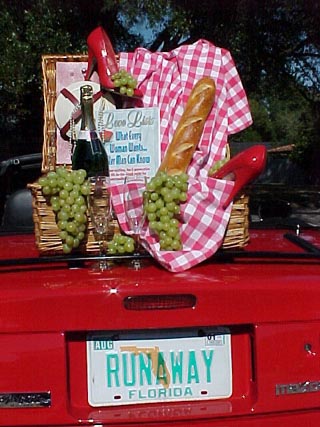 VERSITILITY - The Runaway proved himself to be a real Sport Utility Vehicle! As a Sport, he introduced me to new activities like autocross and road rallies, yet he can still pack in the golf clubs, a saddle, or scuba gear. When it comes to Utility, he's stronger than I expected. We always raise a few eyebrows as we pull into Home Depot along with the trucks. He hardly flinches as he takes on a load of lumber, mulch, or blocks for a home project. What a love!
RELIABILITY - The Runaway is very reliable. Even when I don't know what I want, he's always ready to go the extra mile to keep me safe and happy. If I have a bad day, we just put the top down and hit the road. It gives me a chance to air out my brain and search creatively for answers…or forget the world entirely.
LOVE ON THE ROAD - Once in awhile, a girl's got to kick her shoes off and have a little fun, right? So what do I always keep packed for life with The Runaway? All the essentials, of course! With a picnic basket loaded with plates, glasses, utensils, napkins, bottle opener and corkscrew; we're ready for an impromptu picnic after any short trip to the nearest convenience store. For comfort, there's a sleeping bag, which doubles as a picnic blanket. I also carry a small suitcase packed with a swimsuit (hey, we're in Florida!), towel, change of clothes, comfortable shoes, toiletries, books, note pad, pencils, toss away camera, long distance phone card, maps, and travelers checks… all stashed away in anticipation of our next escape!
HOW I TREAT THE ONE I LOVE - As in any relationship, I had to make some adjustments. Now I'm seen less with my girlfriends, and more with the Pep Boys. I use a tire gauge more often than an eyelash curler. It takes me longer to wash The Runaway (Nu-Finish on the paint, Meguiar's Endurance on the tires, and Eagle 1 Mag Cleaner on the wheels) than to watch a movie. I spend more time cleaning his inside (3M Vinyl Cleaner/Protector on the top) than I would ever devote to the house... and do it more often. I scoff at the lowly bottle of Windex (okay for my house) and insist on nothing but Stoner's Invisible Glass for his windshield and Novus Plastic Cleaner/Conditioner on the back window. To keep him at top performance, The Runaway gets Mobil 1 (10w30) oil and OEM Mazda oil filters. Admittedly, I find it distressing when I pay more for his new tires (from Tire Rack) than I do for an entire scuba diving trip… but he deserves the best.
Yes, life was simple before we fell in love and ran away together… but what can I say? It's been a year and half since we met… and 42,000 exciting miles with the wind in my hair. I'm definitely a woman in love!

---
---
---