---

The MX-5 Miata of the Month from


---
December 2002
Bill Foster
Congratulations to Bill Foster on the selection of his Miata (number 424) as our December Miata of the Month!

---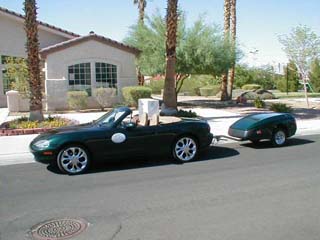 Like many Miata owners I really enjoy daily driving my Emerald Green 99 that was recently acquired. But now I want MORE of a good thing! Read on….
Talk about a good time, the SCCA Autocross on Sunday evening at Texas Station Casino in Las Vegas, NV is just about as much fun one can have in their Miata, (even with your clothes OFF!) 6 weeks ago, being a new Miata owner, I heard from Judy, fellow MOOV (Miata Owners Of Vegas) member, about the Autocross event. The web site www.lvrscca.org has a terrific explanation about how it works and how to participate. With the encouragement of Linda (my wife), and the security in knowledge of how it works from the website I visited the races one evening in June.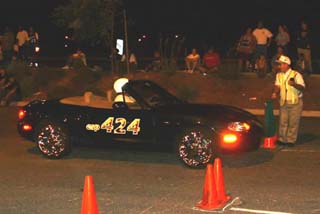 It did not take long to notice the range of different people that were participating. Young bucks with the hopped up "hotrods", to older more refined gentlemen with their stock Miatas. You know the type, years ago they would have worn hats and driven Desotos! But I regress…. The point is, that there were many people having FUN driving in a competitive event, safely. After watching I decided right then that I would at least try it at the following session in two weeks.
After polishing the Miata (have to look good), airing up the tires (a tip from the internet site) and a couple of chairs and a cooler we were on our way to Texas Station. Arriving at 5 PM, we had the opportunity to chalk the cones and get to know the track set up intimately! I still had no idea why I would want to know it so well, but I am learning. A quick inspection of the car assured it was race ready (nothing loose to fly around in the trunk or car, battery secure, wheels and tires in good shape). Then the wait until the drivers meeting at 6:45.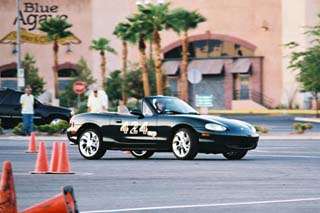 First time out on the track the safety/education regional director, Allon, rode with me to give some pointers and help assure that I was comfortable with the situation. His explanation of his shouts of orders to turn coming before the seemingly best times to turn or brake were soon understood. By the time the mind reacts you are already past the opportune time to maneuver! Very much like doing the twisties on my motorcycle, the key is to drive ahead of where you are. Looking through the turn makes all the difference in the world. A couple of runs with Allon, I was ready to try it alone.
The night came to a quick end. Seven runs through the timers, excitement, adrenaline, and heart pumping energy exploding from within. Physically draining concentration, personal satisfaction, personal accomplishment, personal reward all part of the SCCA Autocross and my new Miata.
I went back two weeks later and did it again and plan on going back to each event, just for the rush…
Bill Foster
Green Miata
CSP #424
---
---
---