---

The MX-5 Miata of the Month from


---
July 2002
Shee Min Lee
thedeviling@hotmail.com
http://miata.cardomain.com/id/shiminlee
Congratulations to Shee Min on the selection of his Miata as our July Miata of the Month!

---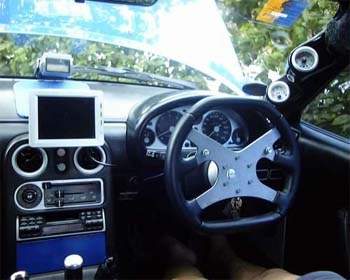 I've always loved cars since I was young and yearned to own and drive one. However, cars in Singapore ain't cheap making it a difficult task to own one.
Nevertheless, I started my driving experience with a more subtle vehicle, the Toyata Paseo. Not much of a kick, but hey .. it has a MOONROOF that provides some cheap thrills of a real convertible! After about 2 years, it was time to look into something more aggressive and fun and Miata was the first car that came to my mind.
I spent days reading up on books, internet write-ups on the vehicle, the performance as well as the handling. And thereafter, weeks searching and waiting for the right one to appear. The Miata I am looking for should be as STOCK as possible because I wanted to have the priviledge of building and modifying the vehicle to my likings.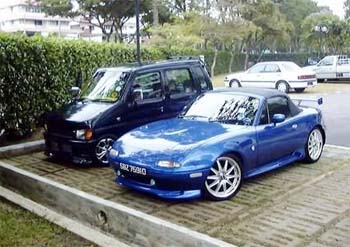 Not long, a red stock 1.6L Miata was found and since then, nothing has been the same. First to come was a new coat of paint. Metallic Blue being my favourite color was chosen and followed by a set of 17" by 7J Rims with 205/40 Kumho rubbers.Sports Spring were soon to come for a low profile aggressive look and an aluminium wing was neatly bolted to the rear.
Finding it still insufficient, I started spending the next few weeks searching for a unique kit for my New Blue Baby. And the result was more than delightful.
Soon after, engine modifications took place where straight through exhaust was done followed by custom Open Air Intake Pod.Every time I floor the accelerator, the roar of the engine never fails to bring a grin on my face. Sparking was handled by a set of NGK Iridiums and a New set of HKS Performance Camshafts were installed, pushing the car even further into its limit. Now the car handles great on turns and straights.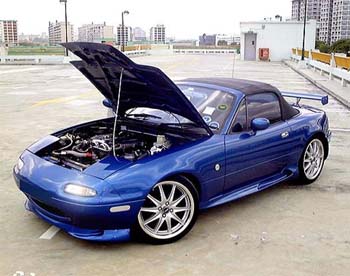 To me, no matter how bad a day can be, after a long day of work, I yearn to get back into my miata and it never fails to bring a smile on my face. Now , thats my miata.
Regards
SheeMin
Singapore
http://miata.cardomain.com/id/shiminlee

---
---
---