---

The MX-5 Miata of the Month from


---
July 2003
Timothy Chen and LIFTNOT
Congratulations to Timothy Chen on the selection of LIFTNOT as our July Miata of the Month!

---
I bought LIFTNOT in 1994 because she was a slim and trim "R" model. and needless to say, a total joy to drive as new. She rarely missed a beat during spirited driving - especially after I treated her with Koni, Racing Beat, Eibach, Redline, Yoko, and JRCAI. I live in sunny San Diego; it was the perfect car for the weather and it was the "funnest" car I had ever had. I have taken countless surfing trips to the beach with my 7'6" Delong surfboard and many backcountry carving sessions- without the board. It was also the "best car" at my wedding in 1997 and LIFTNOT never complained about the shaving cream or tin cans tied to the bumper.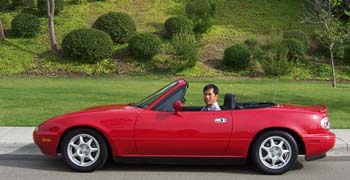 LIFTNOT was very much part of my family, but I had to sell her in 2000 and move to Singapore long term. It was a painful departure, but fortunately, I had many potential buyers and was able to select someone who would take care of LIFTNOT in my absence. The person who bought the car at 116k miles and we agreed to keep in touch thru email but all too soon my wife and I had loaded up a 20-foot container with all our belongings and tearfully waved her goodbye as we moved on to our new life in Singapore.
While riding on city buses in Singapore, I often reminisce on carving through windy roads with LIFTNOT wishing I were driving it instead of just dreaming. When Mr. Shee Min Lee from Singapore became Miata of the Month in July 2002, I congratulated him on the phone and shared a bit of my own experience about LIFTNOT. I was without car for a while since cars in Singapore are 3-4 times more expensive than in the US. After chasing the bus in hot, humid weather for a year, I eventually broke down and bought a 2002 Subaru WRX. I'd always wanted to try an All Wheel Drive car and the Subaru filled the sales propaganda promises.
Prior purchasing the WRX, one of my neighbors in Singapore: Mr."Hakkinen" from Finland had a 2000 WRX and he commented it's the second "funnest" car he had ever had and his Ferrari being the first. With that in mind, I was pretty sure I wasn't buying a lemon. Sure enough, It was a hot, sporty car with Sti rims, special triple meter options and lots of turbo juice to spare. With the signature WRX racing blue and gold wheels, it turns heads everywhere we went. However, not to take away the effort and an excellent job done by Subaru to bring the WRX to the US market with a great car, there are a few things "worth mention" in comparison with the Miata. 1) High center of gravity 2) excess roll & weight 3) gearbox/shifting mechanism 4) steering feedback, and finally 5) the fun factor.
On January 17 2003, I returned home to San Diego for good, and started a new life. Ends up the friend who had bought LIFTNOT were planning to sell her so he can buy a SUV. What an incredible timing! I quickly made an offer with what money I had left, and drove off with LIFTNOT with a big grin on my face and a deep thankful heart. She was mine again! What a joy to drive it again. With 128k miles and 195-200 psi compression, LIFTNOT detailed out very nice and it's hard to tell she's a 9-year-old. She even passed the strict California smog test.
What's LIFTNOT ? Well, It's not how fast you go, its how little you slow down. The suspension on this car is quite outstanding; you never need to lift your foot off the gas pedal around turns. Right now I am waiting anxiously for my Toyo TS-1 to arrive.…… more smiles to come. Let the good times roll!
---
---
---