The MX-5 Miata of the Month from
---
December 2003
Lee Taylor
Congratulations to Lee on his selection for the December Miata of the Month!

---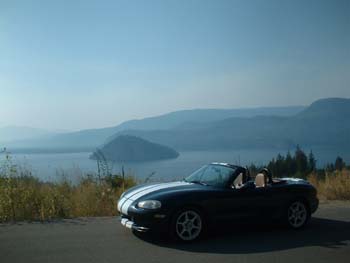 My story begins in January of 2000.
I had been working for a driving school in Abbotsford B.C. for about 4 years and my boss was getting a little tired of teaching standard transmission to 16 year old students. One day over lunch at Pizza Hut, he said, "What would it take for you to teach standard again?" (I had done it when I first started there).
I thought for a moment, "Hmmmm, well I really like teaching automatic, I have a nice car, I get to set my own hours, and it's great." So I replied, "Buy me a Miata and I will teach standard." (I never expected him to say yes). He said, "Ok lets go and pick one out." I was shocked!!
Down to the dealership we went and picked out a 2000 twilight blue with tan leather. I had never really liked Miatas up to that point. (I always thought they were slow and not very much fun.) I drove it home the next day and fell in love, I put close to 700km on it that first day, I even slept in it that night.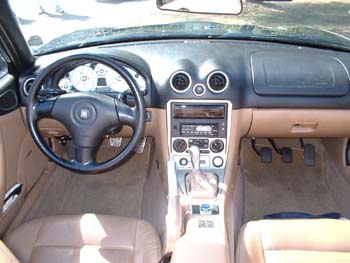 Sadly though, it went away the next day to have the dual controls put in. The guy who put them in took one look at the car and started to groan. He had the car for three weeks and did a masterful job of installing them. By the end of it though, he hated the car so much that he said if I ever bring the car back for any reason, he was going to "drive it into the river".
Now I had a fully equipped Miata training car, and was ready to teach kids how to drive. Wait a sec, I HAVE TO TEACH KIDS HOW TO DRIVE IN MY MIATA??? I started to wonder if this was a good idea. After about a week of teaching and no major incidents I was having a lot of fun, and the students were having an easy time learning how to drive it. (Most of them learned the basics from their parents anyways, so it was a lot of fun.) The reactions from kids varied from "I get to learn on that" to "wow, it is nicer than my mom's car". I even had some parents pay to take lessons in it because they liked the car so much. Some students were afraid to drive it because they were paranoid they were going to wreck it.
Then the modification bug bit and I learned I could make the car more fun.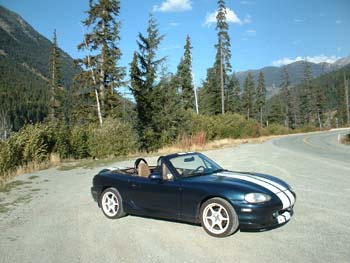 Four months later I had a custom exhaust and K&N intake put on. (That was another day when I put close to 500km on it.) I joined the local Miata club shortly after that and really began to explore the potential of the car. I also met Chris Cullen and that is where the trouble really started. (He was the mechanic that most people in the club trusted and took their cars too, so I started to as well.)
First came the Racing Beat header and FM sway bars, then the brakes, and it snowballed from there.
It turned into Chris saying "I wonder if I could make that work" and Chris can make anything work. Some of the cooler things that now appear on the car are the electric retractable front licence plate and the seven water cannons aimed in all directions around the car that can be controlled independently from inside or outside via the alarm remote. The modifications didn't stop there. A new Roadstersport exhaust, Kosei wheels and Kumho tires, a Hard Dog roll bar, and the list goes on and on and on.
Then one day, Chris, Paul, and myself, were sitting at McDonalds (where we can be found most days) and were throwing the idea around of opening a Miata specific repair shop and aftermarket parts store, seeing as how there wasn't one in western Canada.
Chris had been working on Miatas and RX-7s out of his garage at home for the past 10 years and was looking to expand. I was looking for a career change, and Paul was looking for something to fill his spare time when he is not fighting fires.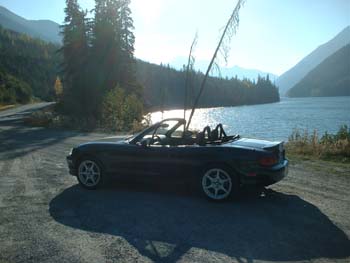 So, Eunos Custom Automotive was born. It went from an idea to opening day in about two months and we haven't looked back since. The Miata truly has opened many doors in my life, I have met people and been places that I would never have if not for the little roadster.
I am currently a member of two miata clubs and have been on more than fifty club runs. As well as organizing more than fifteen runs, including Mazda Madness 2003, an all Mazda show that took place this last summer and I hope every summer from here on.
I can't wait for the future and too see where the miata is going to take me because there is nothing more enjoyable than cruising through the Fraser canyon, with my fiancée beside me, the sun high in the sky, and us wondering what is around the next corner.
---
---
---