---

The MX-5 Miata of the Month from
---
February 2003
Hans Wegendal
Congratulations to Hans on his selection for the February Miata of the Month!

---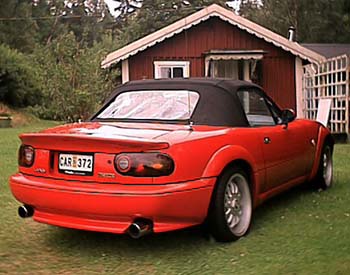 My relationship with the car started with a crash on my motorbike. I bought a brand new Italian bike, an Aprilia RSV Mille, 2001. Last spring Idrove down to the beach in my hometown, suddenly a big mean taxibus came around a corner and I crashed right into it... and so the season of '02 ended in May. I broke an arm and got to sew several stitches in my arm, foot and leg. The bike was wrecked.
I couldn't think of a summer without of having fun with a bike or car, so I started to look around for thinkable objects. It should look good and be fun to drive. I looked around on for example an English sportscar, TVR 350i, my stepfather has one, and MGF's. But then i found my miatadream... I've read everthing about the car, and got the impression that it was the best, funniest, etc. for the money you had to pay for.
I found my car in the south of Sweden about 100 km from home, and i bought it after a testdrive. It wasn't maybe the best shape in the paint, but everything could be fixed. The thing that really catched me was the Poster tuning package. It look really fat !!! I looked on the www.postert.de site and the things that i have on my car cost around $5000.... Other changes is Jamex lowering springs, 16" wheels, sport airfilter and so on. But there's more to come...
Anyway, the summer of 2002 went really nice, nice weather from June to September = long season. And my "to do" problem was solved with my new bought miata. My original vacation plan was to go up north in Sweden and Norway with my bike, those plans was changed with the crash. So the new plan was to make a roadtrip down south to the rest of Europe.
Me and my friend left Älmhult the 10 of July at 10.00 in the morning, by the way, in Älmhult the swedish home furnishing company IKEA started up in the early 60´s.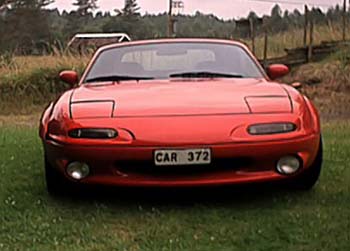 We started of by driving to Helsingborg, and took the ferry over the sea to Denmark. We drove trough Denmark and came to the German border about 15:00 where we stopped for dinner and some gas for the miata. The weather was sunny and warm, but driving for 5 hours without winblocker makes you a bit tired... So we put the top up and continued to Autobahn in Germany, the Autobahn was by the way built before and during WW2 to transport the german troops quick around the country. They are very wide and on the most it's free speed, if the traffic allows it... We drove to Berlin and then headed south to Weimar. We didn´t have a plan for the trip so we took our time and didn´t rush. The car was really nice to drive in "high" speed, 160 km/h+. The only thing was the road noise that came in to the coupe. But I used earplugs and a nice cd, problem solved J.
At 04:00 after midnight we stopped for gas and some sleep. We had been driven for 18 hours and about 1100 km... But, we didn´t stop in fancy motel, no no. We slept in the car. Me, in the drivingseat and my friend in the other seat. He´s about 1,95 cm tall....
After 4 hours sleep, we started up the car and started our journey to Weimar. At 10:00 we arrived and the first thing to do was to look up a nice B&B. We parked the car and installed us to the room and slept for about 5 more hours.
The actually cause why we drove to Weimar was "Buchenwald". Buchenwald was a concentration camp during WW2. My grandfather was a prisoner. He was a Danish undercover agent and blew things up in Denmark, like a submarine dock, weapon deliveries, boats, railroads etc. In June '40 he and his "gang" was arrested and sent to different camps. He started of with Bergen Belsen and continued with Dachau and at last Buchenwald. He did survived and was rescued by the allies and the Red Cross just after the war end. I have always wanted to see it, and I guarantee it, if you ever get a chance to visit a camp, do it. It was the most frightening thing I ever seen. Gas chambers, hair, tooths, shoes, cloeths, pictures. So many impressions, there were guides that spoke several languages so it wasn't hard to understand. Many buildings were destroyed, some of them by the Allies but the most by the Germans. The surrounding nature was really nice, with big old trees and so on. The officer houses were intact and they have had an own zoo... !? Just for the Germans and their families. Ok. We went back to Weimar, went out for some beers at the pub and went to bed early.
We didn´t have any plans for the next days so I called a friend in the Netherlands and asked him if he wanted company. It was ok, so we started our journey to him. So from eastern Germany to the Netherlands it was about the same length as going back to Sweden, 1200 km....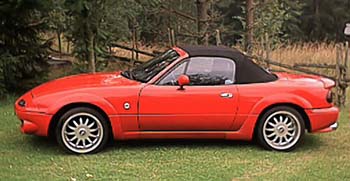 We drove through Germany, and Belgium with no problems but had to stop about 3 hours from my friends home to get some sleep, in the car, again...
The next day after 5 hours sleep in the car we continued.
Rush hour...
In Amsterdam...
I'm usually not afraid when I drive, but here it was chaos. I grew up in Älmhult, population of 16 000... not 2 millions...
A six filed road with no empty spaces.
Anyway, 3 hours later we arrived. Sweat, and tired. Knocked on the door...
No answer...
He had forgotten us and drove away to another friend of his. He didn´t came home until the day after. Of course he haven't got his cell phone with him... We took a room on another B&B and went to bed really early that night.
Went up early the day after and started the long drive home to Sweden, another 1200 km through Netherlands, Germany and Denmark. All in one day or about 15 hours non-stop driving. Tired and angry. Hungry and tired and by the way, tired.
In four days we have driven for about 3500 km. Just to look at a concentration camp, an empty house outside Amsterdam, and two B&B.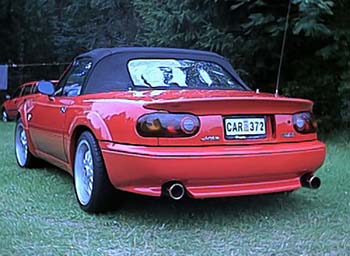 But this year I wont go without having any plans....
Last September, my car was vandalized. So this winter it have been repainted, and got a new top and lights around the car. Some of the interior also got painted. I´ve also bought new ignition cables an openair-kit, knobmeister knob. More is to come...
Best regards
Hans Wegendal
24 years old
Älmhult
Sweden
www.almhult.se
---
---
---