---

The MX-5 Miata of the Month from
---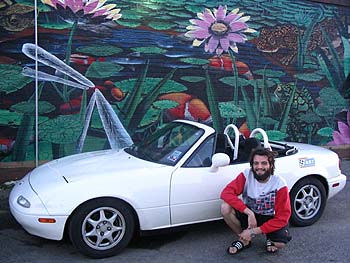 May 2005
Aaron Cohn
Congratulations to Aaron on the selection of his 1994 Miata as the May Miata of the Month!
---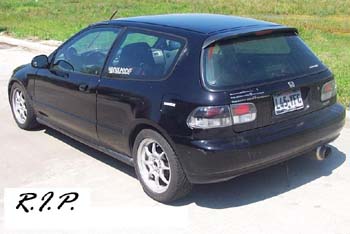 My Miata story began under a Civic. My old street racing car was sick again, and this time it looked terminal. She was suffering from a lot of hard miles on the track, as well as the streets of Houston, and the steering rack was shot. This turned out to be a big problem when I found out that a manual steering rack for a 92 Civic is pure unobtanium. With a heavy heart, the old, broken steering rack was returned to the car, and I knew it was her time to go. As if the car knew what I had decided, her lovingly installed twin cam VTEC motor just gave up. She had made it eleven years, and 186,000 miles, but at last her old bones could take no more.
Every ending is a new beginning, and this story is no different. I needed a new project. I chased after a few Diamond Stars, and even more FC RX-7s, but none of them seemed right. I had been an avid street racer in high school; but now, with untold tickets, a towering pile of maintenance bills, police harassment, and a few more years under my belt, it just wasn't as much fun as it used to be. I needed something responsible, I needed a new Civic.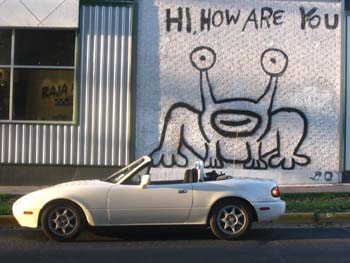 Anyone with gasoline in their veins knows that you can't just buy a new car and hope to become an ordinary commuter. I just had to check out what was on the used lot first. Turns out I never made it to the new car lot. My Miata was sitting there, ignored and alone as the cold winter months were setting in. The salesman was reluctant to even show me the car, insisting that full size vans sold best in the winter. After suppressing an involuntary gag reflex, I insisted on driving the unwanted sports car. It was exactly what I wanted.
Driving the new car was a revelation. Whereas the Civic had never been really happy unless it was tearing along at triple digit speeds, the Miata was a joy at the speed limit. The car was possessed of a purity and poise that was utterly lacking in my teenage-built drag racer. I had never planned on waiting more than a week or two before adding a massive turbo to the car, but now, nearly two years later the car's little 1.8L is still virtually stock. I had discovered balance.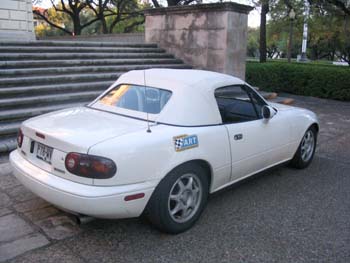 The Miata brought out the true sports car driver in me. I was no longer concerned with sixty foot times and massive dyno numbers. My concerns were fluid corners, mountain passes, and the myriad of beautiful hill country roads offered by Austin's topography. Flying through corners surrounded by greenery, waterfalls, and amazing scenic overlooks, I discovered a new function for a car. In the chaos and confusion of a hard drive, there lies inner peace. Some people meditate in silence, I meditate to the cry of a motor, the thrashing of tires, and smelling the unique aroma of burning brakes, rubber, and clutch.
The world always tries to slow you down. From the friction of physics, to our own reluctance to change. For me a car has always been a way of striking back against this stagnation. I tried using brute force to move forward, but now I know that in truth, it requires a light touch, and a great awareness of your surroundings. In this way, we can all move towards tomorrow.
Aaron Cohn
94-B Miata
---
---
---