---

The MX-5 Miata of the Month from
---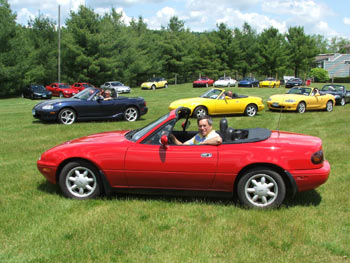 June 2005
Art Dammers
Congratulations to Art on the selection of his 1992 Miata as the June Miata of the Month!
---
The second time around

The internet can be a dangerous thing, at least in my house. I'm in my early 50's. The kids are both teenagers and I find myself driving my wife's old minivan we bought back in 1994 which now has 185,000 and counting miles on it. I'd sold my 1992 Miata to buy that minivan and missed it. It would be great to find a sporty rag top that gets great mileage and is fun to drive. I spent three or four months cruising the net to see what is out there. Fox body Mustangs don't get the gas mileage, Corvettes are too fragile and the new Mini convertibles are $$$. Like many of you, the Miata was the best of all worlds.

So one snowy December evening, I'm surfing away, hit a link, then another link and there it was. A red 1992 "B" package with limited slip, ABS and a hard top w/defroster. More details, dealer installed mud flaps and tonneau cover and only 57,000 miles. I just happen to have the next day off and so did the owner. Yes, it has always been garaged, no it's never been in an accident, new brakes and tires and yes I've got every receipt on the car since it was new including the window sticker and sales contract. I kept thinking that's the way I would have ordered my Miata. Then he said the magic words, he'd bought it in 1994 with almost 20,000 miles on it from a guy who worked for an insurance company and wanted to sell it to purchase a new minivan for his wife. It was my old car!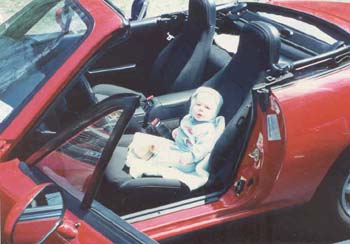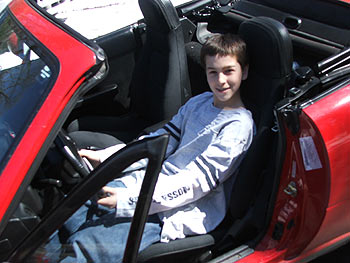 As I drove by her with the for sale sign in the windshield, I already knew I was going to buy it. All of a sudden, I was 39 again. Signing on the dotted line for what I thought was going to be my only midlife crisis.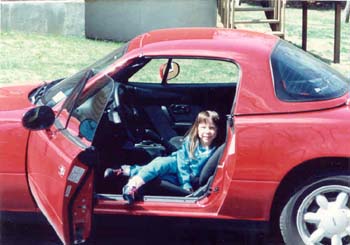 So what is love like the second time around? It's too early to tell, something's I remember like yesterday, other things are hazy. I just cleaned up the convertible top boot and tonneau cover. Hope to have registered and on the road in the spring. I do have an old picture of a happy three year old girl next to daddy's new car. That little girl will be getting her license this year and has a new twinkle in her eye. She has already told me that she wouldn't be caught deal driving an old mini-van.

Our then 3 month old son has grown to be a stapping 13 year old. He said that the car is cool, red has always been his favorte color and is already thinking ahead three years.

Recently we drove the Miata without the hardtop on it for the first time since the fall of 1993. My eye caught something silvery in the now familer rearview mirror. Upon closer inspection I was surprised and humbled to see that it was my grey hair sparkling in the noon day sun. It was only then that I came to the conclusion that it's even more fun the second time around.
---
---
---