---

The MX-5 Miata of the Month from
---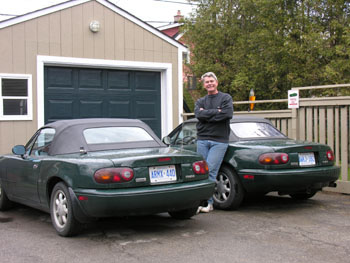 August 2005
Craig Jones
Congratulations to Craig on the selection of his 1991 Miata as the August Miata of the Month!
---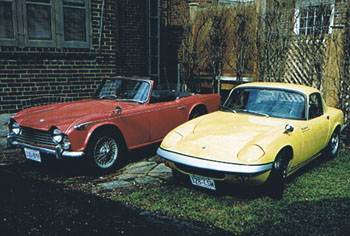 How many other Miata drivers started off their love affair with small, nimble cars in a quirky British or Italian sports car?
In the forty years since I first got my driver's license at age 16, I've usually had a British sports car of some description dripping oil or awaiting repair in my driveway: Minis, Healeys, Triumphs, and yes, even a '67 Lotus Elan! Saturdays were generally spent creeping around and skinning knuckles under the cars. This, after rummaging through boxes and boxes of greasy bits on the workbench searching for that prized lump from the last parts swap! It was always exciting when the local dealer's parts department would phone, saying that the hard-to-find part I desperately needed might be in by the end of next month.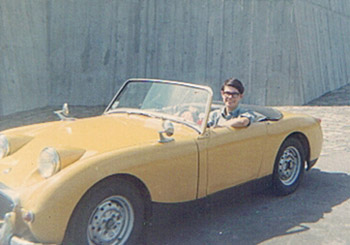 Don't get me wrong; I loved every one of those British sports cars, warts and all! In their day they were certainly a blast to drive - top down, that huge steering wheel, rattles, bangs, groans and bumps. And that exhaust note! Man, you felt like you were moving! And the oil! The smell of the oil!
They always made for good party conversation too: the ring-gear shearing off the Bug-Eye's flywheel when a friend tried to give me a push-start; the water pump pulley on the TR-4A breaking free at 80 mph and denting the hood from the underside; pulling into a "British Car Specialists" garage in North Carolina in a '71 Mini with a dead alternator and the mechanic looking at the car and saying, "What's this?" The real crowd-pleaser tale was my last drive in the Elan: I had managed to drop a power window down inside the sealed driver's door AND seize a rear bearing all in the same afternoon. I sold it to a guy who wanted to go racing.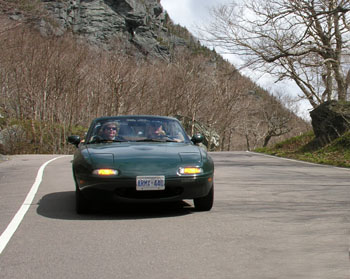 The marque clubs for the Brit cars were great - really helpful when it came to diagnosing electrical problems. I think the most noticeable difference between my old Brit clubs and my Miata club is that the Brits concentrated on just keeping your car on the road, with the goal being to return the car to "original showroom" condition. Miata drivers, on the other hand, concentrate on having fun with their car! This includes everything from cosmetic changes, tweaking suspension, installing turbos and, yes, even driving!
Five years ago, I began to think about picking up another Brit car, maybe another Healey or a nice TR 250, if I could find one. But it struck me that after years of limiting my outings to short afternoon runs with various marque clubs, maybe it was time to own a sports car that I could actually get into and drive somewhere without fear of mechanical or electrical break-down. I had always liked the looks of the Miata, and had been impressed by its handling when I drove a friend's Classic Red '90. My wife, Caren, was very much in favour of having a fun car we could actually use, so we began our quest for the most "British" Miata we could find. Apparently, I still believed that a sports car had to be British Racing Green with a leather interior!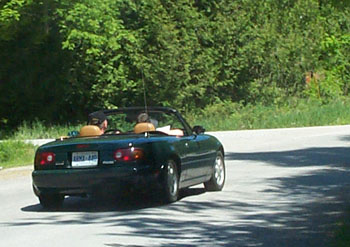 After 2 years of searching, we finally found the Miata we'd been looking for - a '91 SE with 54,000 miles on it, original owner, original condition and all service records. Everything but the factory hard top, but that would come later.
Within days of picking up our "new" Miata, we joined our local Miata club. Being members of the Trillium Miata Club, Toronto chapter, has been a great experience. Good people with lots of helpful ideas, and LOTS of serious driving - Quebec City, Vermont, West Virginia, Deal's Gap, as well as many terrific day-trips. It's always a whole lot more fun traveling with 20 or 30 other Miatas!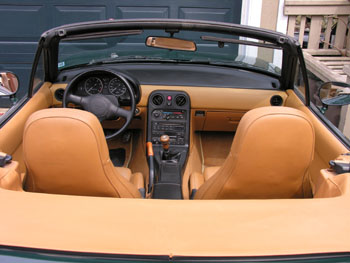 I recently purchased another identical, all original '91 SE, just for its hard top. The car had over 100,000 miles on it and I seriously considered keeping it as my summer driver and moth-balling my first Miata for a few years. But then I figured that these cars are meant to be driven and enjoyed, not stored away and only taken out to be polished. I made sure I sold my 'spare' to a good, appreciative home!
I'm now a Miata convert. Every time I push that car just a little down a winding road, I have a huge smile on my face. And I'm thinking, "I'm glad somebody finally got the sports car thing right! Zoom Zoom!"

---
---