---

The MX-5 Miata of the Month from
---
December 2006
Daniel Born
Congratulations to Daniel on the selection of his 1992 Miata as the December Miata of the Month!
---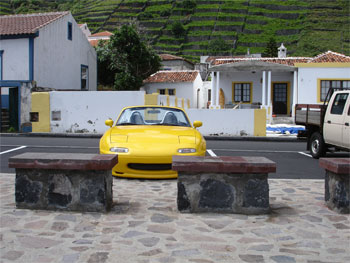 I got my second Miata back in 2003 after an 8 year pause. It was a Canadian 1992 Sunburst Yellow LE model with some appearance modifications. It was in pretty good shape for an 11 year-old car but I decided I wanted to make it even better: freshen it up a little and make some improvements in the handling department. The drivetrain is essentially untouched but I have replaced the suspension and brakes with some performance parts and have added several braces to stiffen up the chassis. I recently had it repainted (original colour of course!) and installed a brand new cloth top with glass window myself and a few other improvements.
What makes my story a little out of the ordinary is that I've been transferred for work from Montreal, Canada to the Azores, Portugal (a group of 9 small islands in the middle of the Atlantic Ocean) for a two year contract. Well, we decided to sell our house, sell our cars and put our personal belongings in storage. I could not endure the thought of parting with my Miata or even having it stored for the next two years, so I arranged to have it shipped here by boat so that I could continue driving it around on a daily basis. We can drive all year since the temperature here varies between 15C (60F) in the winter to 26C (80F) in the summer.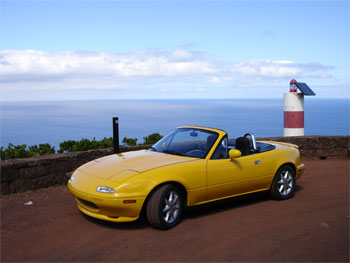 The island we live on is named Santa Maria and it is the southernmost island of the Azores. It has the driest climate even if it rains fairly often. It's also the third smallest, approximately 9 x 16 km (6 x 10 mi.) and has a total population of about 5000 people in the summer, less in winter. There are no big cities here, one main village with a small "downtown" reminiscent of old European cities with cobblestone roads; not much fun in a Miata with a stiff suspension! There are many smaller villages spread out around the island. It is filled with winding roads going around mountains and hills with lush vegetation, waterfalls and breathtaking views of the Atlantic Ocean! There aren't any big highways, just two-lane roads where it is more comfortable to be driving in the second to fourth gear range. There is a strip of straight road that is about 2km long that is affectionately nicknamed "the highway" were we can exercise our fifth gear and possibly reach 120+ km/h if we really try.
There is hardly any "traffic" here. You might have to stop for the odd cow crossing though! It is a Miata lover's paradise where you can go for a 90 minute drive around the island and never have to "head back home" and where it's practically impossible to get lost!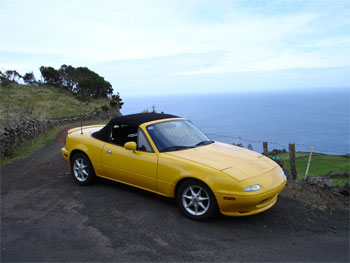 I plan to bring back my car with me when I leave here and continue driving it for as long as I will be able to enjoy it. I think I qualify as a real Miata fanatic. And my wife, fortunately for her, enjoys taking rides with me!
Daniel
P.S. There is a second Miata on the island (since about 2 weeks ago actually). It's a red 2006 owned by a coworker. It's nice but not as much as mine though!

---
---
---