---

The MX-5 Miata of the Month from
---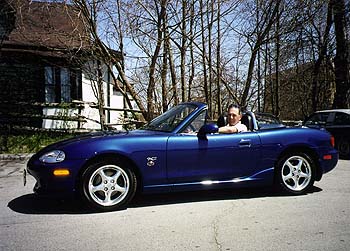 April 2006
Claude Vachon and Blue Sky
Congratulations to Claude on the selection of Blue Sky as our Miata of the Month!
---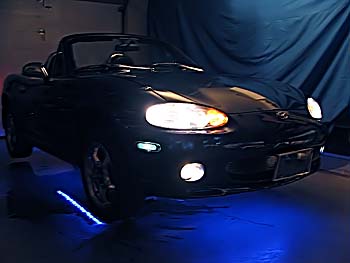 The Time Machine
In February 2000, I retired from teaching after thirty-two years. To launch my new freedom, I bought a Miata 10th anniversary, number 3,391 of 7,500. This car became a real time machine for me.
At sixteen, when I got my driver's license, I was riding with my friend in his brother's red MGB. I can still hear the sound of the engine as we sped along Old Highway 17. In 1970, I bought a BRG Datsun 240Z. I loved that car but there was no seat for my first-born and it was very hard to drive it in winter. So the following spring, I had to sell it and put the dream on hold. After raising five kids, the dream window opened. When I saw that blue sports car in the show room and got to drive it, I knew the universe was unfolding as it should. I bought the car!
This is no ordinary car. It became my time machine. Behind the wheel of Blue Sky, I got to hear again the music of that engine on Old Highway 17. I had found the lost time! I started going out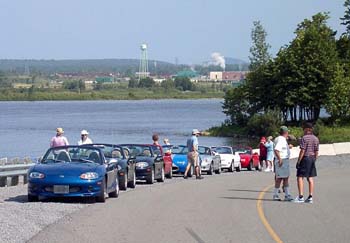 with my wife Isabelle and enjoying this new freedom in Blue Sky. We are now going to beautiful places and meeting great people that are excited about their lives. We joined the UMN Miata Club in the Ottawa region. Every spring we look forward to living new adventures and experiencing fantastic drives with our fellow club members. Driving through Smuggler's Notch in Vermont last year, I heard a club member shouting on his CB radio,"I feel ten years younger!"
I really believe that this car makes us feel younger and enjoy life with a different outlook.
From day one, I never thought that Blue Sky was perfect. I believed that I could improve on its looks and performance. Blue Sky permits me to express myself in a bold statement.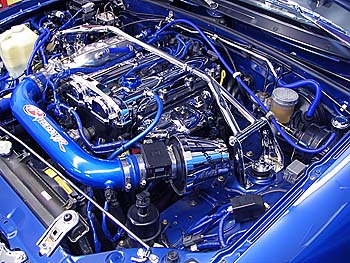 My work on Blue Sky has earned me the nickname El Chromo, in my club. I perceive this as a mark of friendship from my fellow UMNers. During the long winters when our cars are tucked in, I enjoy having parts sent away to the chrome shop. When they come back wrapped in brown paper its like opening a gift on Christmas day. I also enjoy fabricating parts for Blue Sky. The joy is always greater when I make a part that is not only beautiful, but also unique.
When I bought my Miata, my family thought this was frivolous but not me. I knew I was getting a time machine! This machine opened for me the window to time lost, got me closer to my true love and got me excited about my life. As a bonus, it made me feel ten years younger!

Always blue sky
Claude Vachon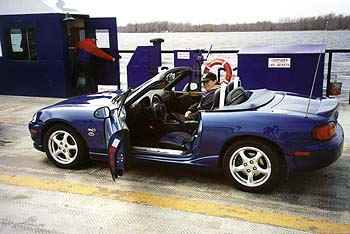 ---
---
---