---

The MX-5 Miata of the Month from
---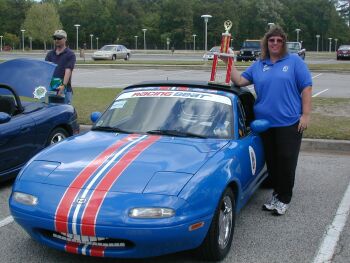 January 2007
Bunny McElwee and Blue Flash
miatamaniac@homexpressway.net
www.lightweightmiata.com/blueflash
Congratulations to Bunny on the selection of Blue Flash as the January Miata of the Month!
---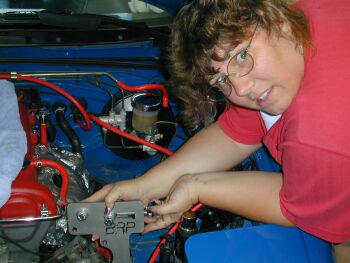 Bunny was a Vette-Girl. She had a blue 1984 Corvette in which she swore she would be buried. Corvette pictures hung all over the house and there was Corvette memorabilia in every room. Every morning she'd read her Corvette forums, every evening she would check the Corvette auctions on Ebay. Then one day something magical happened. While at Deals Gap with her husband she asked to drive his Miata. The car she used to make fun of, "No power" she'd say, was now making her smile from ear to ear. What had happened? Was this the same woman who laughed when anyone dared compare a Miata to her Corvette? Was this the same woman who thought a V-8 with an automatic transmission was the only way to go? All the way home from the Gap she talked about how much fun it would be to have two Miatae sitting in the driveway. When her husband's Miata was wrecked two months later she started helping him look for a replacement. Then something odd happened. The search for her husband's new car suddenly became the search for HER new car. After weeks of looking she found the "perfect" Miata. It was blue (just like her Corvette), it had a supercharger with lots of power (just like her Corvette), and unlike her husband's high-mileage wreck it was an extremely low mileage car (just like her Corvette). She talked to her husband and said "This is the one I want. Call the seller and tell him we will be there tomorrow". They left that night and drove until early the next morning to pick up the car which was 650 miles from home. When the seller opened up the garage and she saw the car in person for the first time she knew there was no turning back. Now, every morning she reads her Miata forums, every evening she checks her Miata auctions on Ebay and if you look in the paper you will find an '84 Vette for sale.
Bunny is now a Miata-Girl !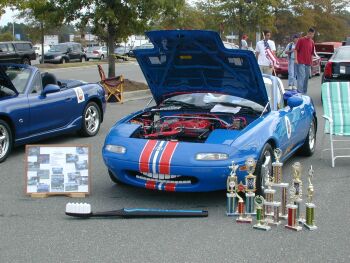 I wrote that article in our LowCountry Miata Club newsletter in late 2001 about my wife, Bunny McElwee. Only a few months before, I had a pretty hard time getting her to even attend club meetings with me. Since that time my wife has become quite the Miata enthusiast. Her email address has changed from 84vette@ to MiataManiac@. She is a member of three Miata clubs and has served as LowCountry Miata Club President for two years and Event Coordinator for five years. She has put close to 60,000 miles (quite a feat for someone who is a stay at home wife) on her beloved "Blue Flash" over the past five years.
When her original supercharger died I told her she could have the off my Miata on one condition – she had to remove it from my car and install it on her car herself! How many women do you know who have installed their own supercharger? All maintenance on Blue Flash is done, or assisted, by her because I felt it would give her a greater sense of ownership. It has worked out quite well and she can now hold a conversation about throttle position sensors or air flow meters with the guys.
"Blue Flash" wins her class in most car shows she enters and has even been known to run down a few cones in the SM2L class at the local autocross. "Blue Flash" is a 1991 Smurf (Mariner) Blue with 95,000 miles on the clock. She sports a Jackson Racing Supercharger with several modifications, Koni Shocks and Jackson Racing sway bars and lots of chrome. The car has been set up for the twisties but since the roads are pretty straight around her home in Charleston, SC she makes the trip to Deals Gap in North Carolina several times per year to race around the corners. Her car sports the personalized license plate "IXCLR8" (I accelerate!) and she lives up to the name if any attempt is made to pull along side of her. She is a true Miata enthusiast in every sense of the word.
---
---
---