---

The MX-5 Miatas of the Month from
---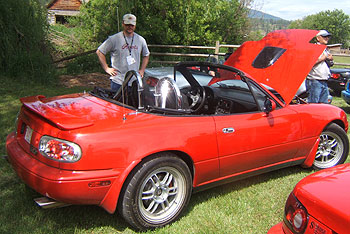 October 2007
Vic Harder and his Monster Miata
Congratulations to Vic on the selection of his Monster as the October Miata of the Month!
---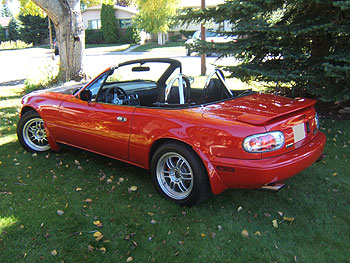 My car is a Red 1990 Monster Miata with 27,000 original miles on it.  It was built by Les Marsh of MidTenn Miata fame and written up in Norman Garrett's book Mazda Miata Performance Handbook, where Norman describes how Les bought a low mileage car and created the very first homebuilt MegaMonster Miata.  Being more of a tinkerer than a driver, he only put 3000 miles on it before he sold it to me in December of 2005.

Since trucking the car up to Canada I removed the carb and S/C, and converted the engine to EFI using an Edelbrock Pro-Flo kit. I've added a nice stereo, Hard Dog Deuce Chromed roll bar and other shiny bits that are not performance related, but they make the car more personal.  Performance wise, I have retuned the suspension with a GC/Koni/FCM setup, and replaced the tires and wheels with lightweight 15x 7.5" Enkei RP-F1's and sticky BFG KD TA 225/45-15 tires.  The EFI system wouldn't fit under the hood without a scoop that is remarkably effective at keeping the intake air temp a low 6*C above ambient.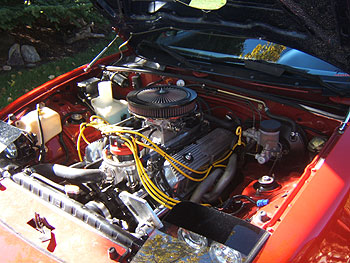 People always ask about the weight increase (250 lbs), and assume it ruins the car.  Well, I've got two things to say about that; first, Mr. Miata has driven the car, and second, I'm faster in this car on the track than I ever was with my S/C or Turbo'd 1.6L Miatae. You can read about my first track experience with the car.
Allow me to explain about "Mr. Miata"…
At the Kelowna Sun Run in May of this year, Mr Takao Kijima, the MX-5 Program Manager responsible for the Miata from Mazda Motor Corporation was the special guest at the evening event. We got to talking, and I asked him when the MazdaSpeed version of the NC was going to be released.  He immediately began discussing the exquisite balance of the car as it is, and that too much power would not be in line with Jinba Ittai.  That's when I said, "well then, you won't like my car, because it has a V8".  He was intrigued, and very interested to hear that the car had been featured in Norman Garrett's book, since Norman is a good friend of his. One thing led to another and I he jumped at a chance to drive the car.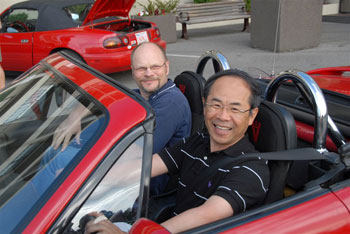 We met the next morning, and after autographing the trunk lid, he got into the car, adjusted the seat, and put is foot onto the clutch.  It went down about half way, and he gave me a funny look while checking to see if he had his foot on the clutch or the dead pedal.  I said, "No, you are right, that is the clutch" and he says "Ohh, too stiff", shakes his head, and mutters … "must be strong".  He then grabs the Momo Steering wheel and again looks at me funny, and I say, "Manual rack, big tires" and he says "too stiff… race car!"  Yet, as we make our way over and around some of Kelowna's great back roads, it becomes apparent that he is an excellent and smooth driver, even though he was driving on the wrong side in an unusual car he didn't know.   I noticed he was downshifting into second for the corners and I indicated that wasn't necessary.  He gave me that funny look again, and tried it on the next corner, leaving it in third for a slow 20 MPH right hander.  Upon exiting the corner under part throttle, his immediate response was to look sharply at me and ask "How much torque"?  I laughed, and explained.  He simply nodded and proceeded to punch the throttle with much more enthusiasm, tossing the car into the corners harder, the V8 making viscerally happy noises all the while.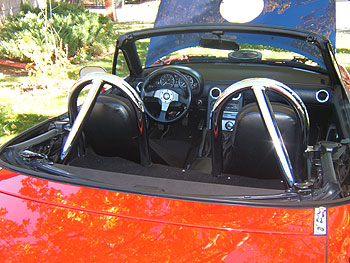 When we pulled up to the autocross course set up in the parking lot at the end our little drive, he said "it would be very hard to drive this car in autocross… for me" and he reached across the car and squeezed my bicep, shaking his head. To another club member he summarized his experience of driving the car as being "an exercise machine" for him.  We've all had a few good laughs about that comment.
It would be fair to say that my high powered "exercise machine" probably no longer fits Mr. Kijima's conception of "horse and rider are one;"  however, I humbly submit that in this case the "Dragon and rider are one", because when another club member asked him about the car he said "Itsa kinda fun!"  I couldn't agree more!
---
---
---