---

The MX-5 Miatas of the Month from
---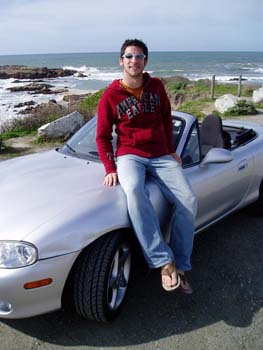 July 2007
Shane Roush and his cross-country Miatas!
Congratulations to Shane on the selection of his Miatas as the July Miatas of the Month!
---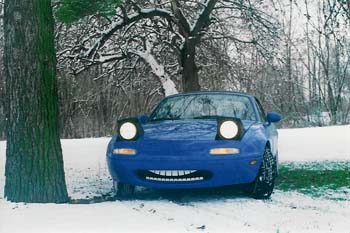 It all started in the summer of 1990. I was only about four years old but my dad had already given me my first car; a rusted 1963 Fiat 850 spyder. It didn't run, nor did it have the ability to drive since the front tie rod was disconnected, but it is the essential piece of automotive gadgetry that sparked the roadster fire. Our plan was to restore it and I would drive that as my first car. Then like most projects, it got put off and we never did much with it. Eventually dear old mom got tired of the little white Fiat laying around and had it hauled away while dad and I were gone camping with friends for the weekend.
It wasn't until 10 years later that my passion was fulfilled. I had finally found the car that evoked the same sense of wonder and excitement that I used to feel while sitting behind the wheel of that Fiat, dreaming about the destinations I would travel to. It was my 1990 Mariner blue Miata, the car of my dreams. I only kept that car for a short time during high school, but I still managed to travel 20k miles with adventurous camping trips, an encounter with a dump truck that lost its load in front of me, crashing a hole in the oil pan, and survive a heavy snowstorm that left even some suv's begging for mercy. I ended up selling the "Blue Devil" in place for a lower mileage 1990 and over the next few years I traded around Miatas for a while and finally ended up with my current car, which I bought brand new as graduation gift to myself; a 2003 Sunlight Silver in March of 2004.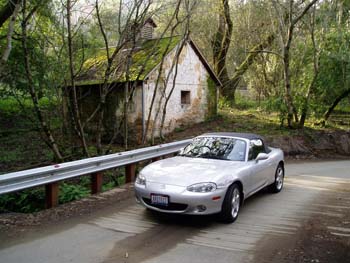 Now over 85k miles later, "The Silver Bullet" and I have been all across the country. We survived hurricane Alex in 2004, traveled to Panama City Beach from my home in Columbus, Ohio for a spur of the moment drive, there have been close calls, countless rallies, and creative shopping trips to Pittsburgh. My days of dreaming had finally come true as the dreams became a reality. The only thing missing was the car that had refueled the fire in my heart; my 1990 Miata. Well, as fate would have it, the opportunity to get the car back in 2005 for a mere $650 fell before me. It was a little worse for wear than when I had sold it, but it was still the same car. It needed a new top, the paint was faded and the wobbly crank syndrome had reared its ugly face leaving the car barely able to move itself. Though with its new problems, I thought to myself, how could I pass that up?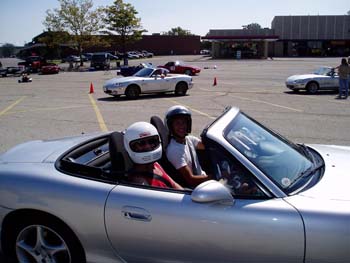 Fast-forward to the present, May 2007. I've since moved from Ohio to San Francisco and could only bring just one car… The Silver Bullet. So again, I have been separated from my beloved 1990. But it is not so bad as when I return to Ohio for trips or visits, I still have my first love waiting in a barn for my return home. One day I will make the move back to Ohio where I will have a full restoration done to both of our Miatas as The Silver Bullet is showing its mileage these days. So here I am today, with a Miata on each side of the country at my disposal, thus making my childhood dreams come true, twice!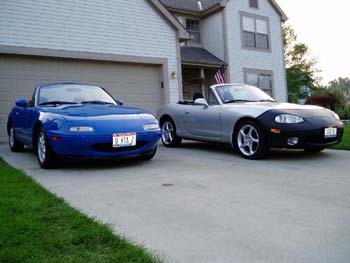 ---
---
---