---

The Miatas of the Month from
---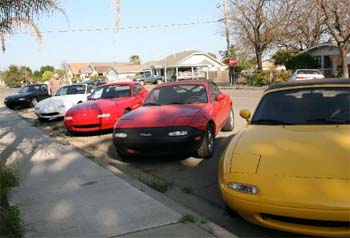 May 2008
Terese Mac
Congratulations to Terese on the selection of her many Miata patients as the May Miatas of the Month!
---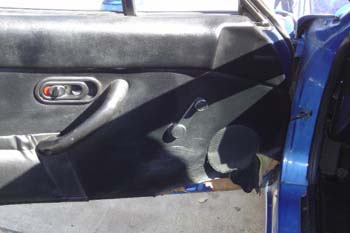 I was the one girl in high school who could name every sports car on the road. I've always had sports cars, yet I didn't get my first Miata until I was 46 years old.
A friend went in with me to buy my first Miata. We fixed it up and sold it; bought another and fixed it up and sold it. We repeated the process and pretty soon I had earned my own Miata. I learned a lot from my friend, who had done the same thing with Corvettes. We worked together for five years and I've since added another four years – that's lots and lots of Miatas. I was hooked!
There is nothing more fun for me than to take a scruffy Miata and make a nice little car beautiful and whole again. They don't need vintage restoration: a new top and a paint job may be all it takes to make a huge difference. I can repair vinyl tears, put in new headlights and speakers, take out a console, change the bezel, adjust a top and fine tune the tires for a quiet ride. Whatever I can't do, I have my network of experts: my mechanic, upholstery/top expert, tire/brake guy and many others. My husband, Jim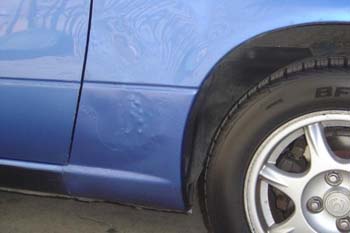 my (who is not a Miata guy) joined me in my venture a couple of years ago and he can fix doors and windows, any kind of wiring, stereos, speakers, and much more…and he's always up for a chase! I learn new things all the time from buyers and sellers alike. My reward for all this work is fun, a challenge and I can play with so many Miatas!
The biggest rush for me is the chase…finding the great cars and getting there first! I'm a master at finding parts and spiffing them up, to keep my costs down. I stock up on things, when someone is parting out a car, and I shop E-bay, as well as the dismantlers. I have my own little Miata storeroom, where I keep sets of wheels, seats, and even fabric for seats, as well as wiper blades, sill plates and the more ordinary stuff.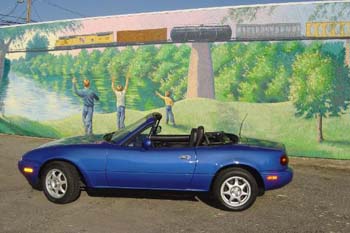 It's such a blast to meet Miata people. I've had buyers from six states. I love it when I have the right car for the right customer; there's definitely a spark when that happens. I once posted a 92 Sunburst Yellow automatic on Miata.net and before I had finished paying for the ad I got a call from a man in Louisiana. He and his wife flew out to California, drove the car around the parking lot, then drove it home to join their other Miata, and their son's Miata. They named him "Stanley" (the car, not the son!) and we still keep in touch. Several families have been so pleased with their Miatas, they came back for a second car, and they refer all their friends.
When shopping for a Miata I'm looking for a good strong car with a solid feel. I'm very picky about how it looks, sounds, and feels. It must be safe and reliable and, potentially, very cool. Sometimes I like to add my own little touches too, like silver sill plates, steering wheel covers, shift knobs, etc. I once had a very plain, white 94 that I dressed up with red Miata logo sill plates, a red and black steering wheel cover, and red and blue pinstripes with little shooting stars at the tail end. I loved it and so did the buyer! I've sold 4 or 5 Miatas to my friends, and made friends with several more who bought cars from me.
Of course I sometimes get unwelcome surprises when I get a car home, but I always fix everything my mechanic and I can find, regardless. If I sometimes go over budget, it evens out in the next few cars. I've had water pumps and timing belts replaced, lots of cam cover gaskets, brakes, tires, tops and back windows. The mechanicals are every bit as important as the cosmetic improvements.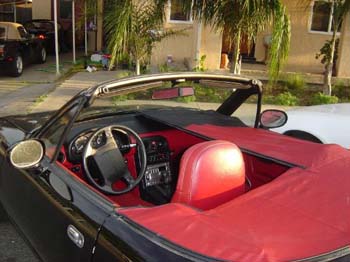 I spend lots of days running cars to their various appointments. Sometimes at the end of the day, I have to go out and count and try to figure out where I left one. I may have 3 at different spots with pick up times. I like adding a bit to the economy by providing work for the painters, mechanic, tire shop, locksmith and the Mazda parts department (they love me there!). Over the years I've developed sources for parts and frequently trade parts with other Miata people. Right now I'm working (learning) on a set of Panasport wheels with road rash…sanding, priming, painting, etc.
I've owned every year (90-97 plus a few 99s and 01s), every color, M Edition and Special Edition Miata, including the elusive 93 Limited Edition. I've had several 'R' packages (I even autocrossed one…fun, but I wasn't too good at it), and some custom Miatas that were truly awesome. My favorite colors are Sunburst Yellow (I have 2) and Laguna Blue. Sometimes I keep a special one for awhile, but eventually someone talks me out of it. People ask if I have a daily driver. I've tried, but it ends up being the one that doesn't get worked on or driven much. I try to drive each one several times a week, both to keep them active and to spot any new problems. Several years ago I took the Miata Performance Driving Course at Thunderhill Raceway – 3 days, 40 instructors, 80 Miatas … sweet!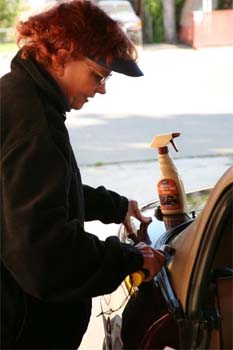 My carport is my office. I spend a lot of time there on my little roll-around stool, digging in my tool tray, watching the neighborhood go by. When I need a break, I work on my little succulent garden which edges the driveway. I think my line-up of colorful Miatas brightens up the street. One of my cars now lives across the way and another is around the corner. I know I've made an impact every time someone drives by and does a double-take. My Miatas have bought me a lovely canvas cover for my driveway…I don't have a garage.
I'm proud of my contributions to the Miata community. I've used Miata.net extensively for research and always refer it to my new buyers. I wonder how many of my buyers are reading this article?

---
---
---