---

The Miata of the Month from
---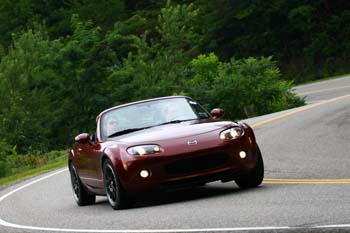 November 2008
Morgan Mehler and his lying, deceitful Miata.
uncbigm@yahoo.com
Congratulations to Morgan on the selection of his 2006 Miata as the November Miata of the Month!
---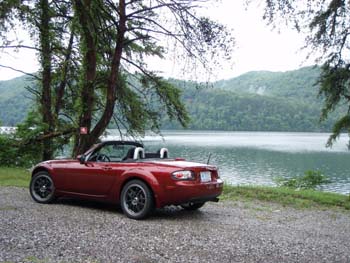 My name is Morgan and my 2006 Copper Red Miata helped serve as the perfect cover story for a string of deceit, deception and lies. Well, actually it's a story of love - and I don't just mean with my Miata, contrary to what my former girlfriend might think!
On Friday, June 25, 2008 my girlfriend Erica and I woke up just a bit later than normal. We got showered and dressed as usual, but instead of feeding our puppy and heading to work, we handed our pup over to our neighbor, packed up the NC and headed westward from our Wilmington, NC home to the mountains of North Carolina for Miatas at the Gap XII!
I was excited! I had never been to the Tail of the Dragon. Driving the Gap had been on my to-do list since I first heard about it in 2004 upon purchasing a motorcycle while living in Connecticut.
To put it mildly, Erica was not as excited. Knowing that she does not share my interest in cars and participation in motorsports, I planned for us to stay with good friends that live in Canton, NC, near Asheville. So, the weekend would be about more than just me getting to drive fun curvy roads. I planned to drive the gap with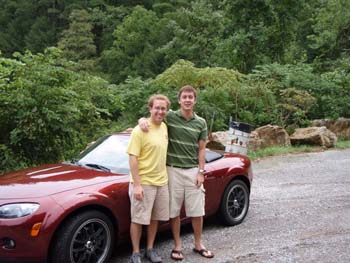 my high school buddy, Patrick, leaving Erica to have a day (or two?) to spend with his wife, Brianna, leaving evenings available to spend quality time with Erica and our friends.
In the weeks leading up to our trip Erica casually mentioned, "Do I have to go? I can go to Myrtle Beach with my parents instead and you can go have fun driving without me." After a bit of sweet talking and a promise that I would only drive the Gap for a half day Saturday and then we would do something fun together, Erica agreed to still accompany me to the mountains. I even sweetened the deal when I told her that I had made arrangements for her to sleep in Saturday and head to Waynesville, NC, a small nearby town, to get a massage and spend some time at a cool local coffee shop. Meanwhile, Patrick and I would try to not get a speeding ticket at the Gap.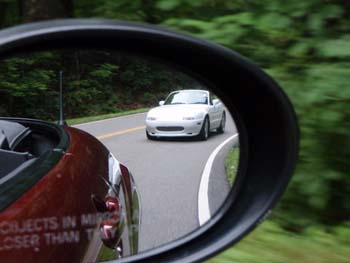 We arrived Friday evening in Canton just in time for a wonderful cookout with plenty of good food and my friends' family and friends. The weekend had started wonderfully and Erica seemed to be enjoying the trip (even though it was still "all so I could drive my car").
Patrick and I woke up early on Saturday so we could make the 1.5 hour drive to the Gap and still get plenty of driving in before heading back to Canton for the QT with Erica. As one might expect, Patrick and I had a blast. We took turns driving, shooting video and taking pictures. Even the early morning rain managed to stop so the road could dry out and we could put the top down. The Gap was fun, not only for the driving and those wonderful curves, but also for all the friendly camaraderie along the way. Let's just say I'll be back next year, I'm hooked.
After having a blast at the Gap we headed back to Canton, albeit a little late (who can blame us!). When we arrived in Canton, Erica was ready for our QT. Erica and I hopped in the Miata and set off for Asheville to go visit the Biltmore Estate. For those that don't know, the Biltmore was built by one of the Vanderbilt children and is the largest privately owned residence in the country. Completed in 1895 and consisting of 175,000 sq/ft, the château is situated on 8,000 acres in the heart of the Blue Ridge Mountains.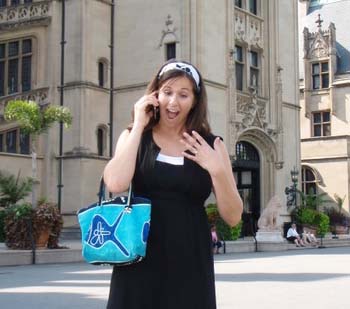 We arrived at the Biltmore and went on a tour of the amazing house. After our tour was complete I told Erica that Patrick, who works part-time at the Estate, had arranged for us to get into the indoor atrium called the "winter garden," which is normally off limits to guests. After a few minutes wait we were escorted into the garden and left alone. With a confused look on her face I began to tell Erica how much I loved her as I got down on my knee and asked her to marry me. Subsequently, we headed to dinner and I surprised Erica again by taking her to a cozy little bed and breakfast after my friends brought us our luggage, which I couldn't sneak into the Miata without Erica realizing something was up.
The weekend was perfect and Erica had absolutely no clue what was coming. Miatas at the Gap XII provided the perfect cover, even to the point that Erica almost did not join me for the trip to the mountains. I'm pretty sure she's glad she came along for the ride. I think that she has a greater appreciation for my love of my Miata and may just love it now too. Maybe next year she won't be as upset when I tell her I want to head back to the Gap. I bet next year I'll get to drive a bit more and even get her to join me for a few runs…
Hmm, now that I think about it, I guess this was a story of deceit, deception and lies after all. And just think, it's all thanks to my Miata and the few hundred others that gathered at the Gap that weekend.
Oh, yeah, I almost forgot, she said yes.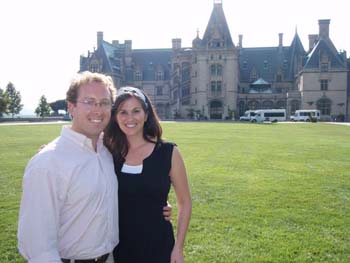 Erica and Morgan will be married October 18, 2009
---
---
---