---

The Eunos Roadster of the Month from
---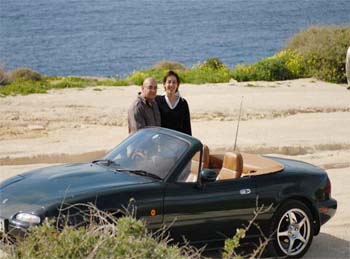 April 2008
Malcolm Pisani
mx5malta@gmail.com
www.mx5malta.com
Congratulations to Malcolm on the selection of his Eunos Roadster as the April Roadster of the Month!
---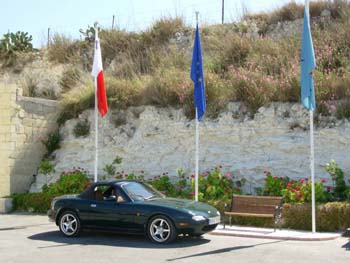 It all began exactly 2 years ago, when I saw a British Racing Green 1993 V-Spec advertised on a local paper. I asked my friend if I should go and take a look at it and he said, 'Go'. I'm sure he was quite tired of hearing me babbling over MX5s for the last few months.
Well, in just a few minutes, the seller and I had a deal done and I was the new owner of the MX5. It really wasn't all flowers at first. The battery was quite drained from lack of use and the power steering leaked oil. Little by little, I fixed the problems and then began to modify the car to my own tastes.
I put in 16" wheels, vent rings, lip spoiler and other little touches to make my little car more special.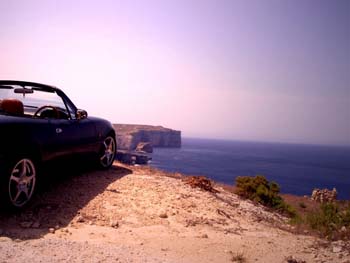 But what in my opinion makes this particular MX5 stand out from the rest is the fact that without it, I would never had done what I did; I managed to start the one and only MX5 Club in Malta.
It all began in July of last year. We managed to gather 7 MX5s. A month later, we were 13, and every month we were getting more numerous attendances. Once we had 22 cars together - quite a feat for such a small island. I never thought that such a car would change my lifestyle and get me to know so many new friends. And the other Club members feel the same way. To fully see the success of what my MX5 and I managed to create, visit www.mx5malta.com
P.S. To all Maltese MX5 owners who attended to a Run, Thanks for making my dream come true!!!!!
Malcolm Pisani
Malta, Europe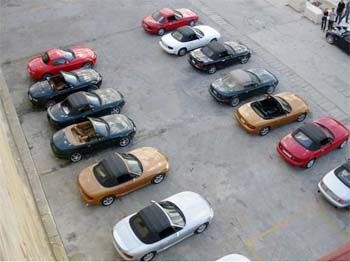 ---
---
---