---

The Miata of the Month from
---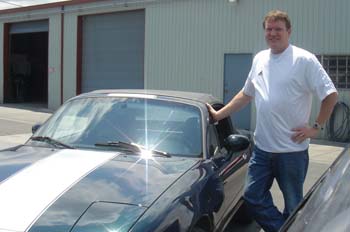 October 2008
Paul Roberts and his "Craigslist Miata"
Congratulations to Paul Roberts on the selection of his 1996 Miata as the October Miata of the Month!
---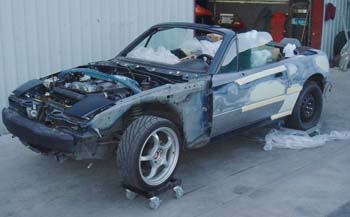 I don't have a lot of mods and no earth-shattering story. Just a beautiful car on a tight budget. This is now the perfect Craigslist Miata.
After driving three 1996 and -97 M-Edition and five other non-M Miatas  I found a one owner, sub-100,000 mile 1996 Miata C package in Montego Blue with 233 (maybe a bit less) door dings. Dents and other cosmetic anomalies were very plentiful but mechanically if felt very solid.  I drove the car as is for about two weeks to make sure that I was ready for the jump from driving a Firebird Formula to a Miata.  Well, it really didn't take the full two weeks to decide.

OK, now what?

Step one was to make sure the car was mechanically healthy and ready to go another 100,000 miles.  Brakes, rotors, timing belt, clutch, rear main seal, engine seals (the easy ones) and full tune up.  Then I drove it for about two or three weeks, yes I was ready.
Ready for what? To make a "nice" car out of this pile of dents!
The car came apart. I took the glass out and the fenders, trunk, bumpers and hood off, then stripped off the paint and hammered out each and every of the 233 dings and dents.  I worked on it every night after work and 20 hours every weekend for about three months - minus a birthday party, a two week work trip to Korea and then owner of the body shop where I was doing the work went on vacation for ten days.   Yes, I have full access to a complete body shop, it's good to have friends in low places (and in auto body places).

Memorial Day weekend the owner of the shop (Nestor) and I worked together for the three days and finally finished it up.  Thanks Auto Pro Body Shop and Nestor!

Montego Blue from the 96 Miata dominates the paint, but there is a nice silver (2007 BMW pure Silver) stripe down the center from end to end.

I guess I should also mention that I currently have a four-outlet exhaust that comes out from a single in dual out Magnaflow Muffler then has a Y-pipe before the chrome tips.  Silly yes, but also sounds great.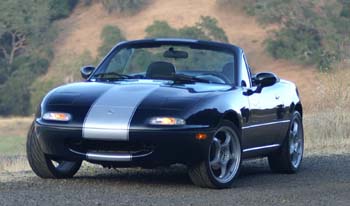 Craigslist provided:
The Miata
Bilstein HD shocks
Clutch kit that someone bought on Ebay but got the wrong year
New starter – someone ordered it but crashed the Miata before install
Polk Audio speakers for the doors
Spare 95 transmission, waiting to be rebuilt and connected to the Turbo motor that will go in next year.
Timing belt kit (from ebay)
R-Racing 17" Rims with new Yokohama Tires from a coworker who wanted the stock daisies back on his 91 - that was a good trade!

So far I am into this car for less than $6,000 and it should be ready to drive for a very long time.
This includes car, paint, exhaust, wheels, tires and the mechanical work that I chose to pay to get done (clutch and timing belt).
It's basically a nice budget Miata. Nothing too fancy, just a personalized toy built at a low cost.
---
---
---