Product of the Month - November, 1996
---
Flying Lizard Design
Miata Christmas Cards and Ornaments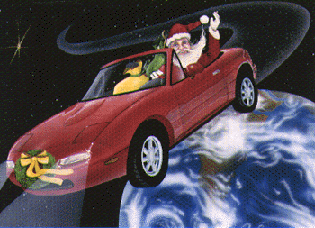 In the past, our product of the month has always been something for your Miata. In keeping with the holiday spirit, this month's Product of the Month is for the other people in your life - a series of Christmas Greeting cards and a limited edition tree ornament.
When we contacted Rebecca Zook to order the cards, we really weren't thinking about the Product of the Month. After seeing how nice they are, it struck us as an appropriate item to feature for the holidays! Rebecca, if you don't know her, has done many of the graphics for the Miata.net Web site. She is also an avid Miata Maniac, just like the rest of us.
Anyway, the Greeting cards are available in 3 different designs. They can be purchased in boxes of 12 with all cards of the same design, or a mix of the 3. The cards measure 4½ x 6 inches and each design has a different saying on the inside. Naturally, envelopes in the appropriate holiday color are included.
The tree ornament is fashioned from cut glass, and measures 3 inches on each side. Its about ¼ inch thick and is flat in the center area with bevels near the edges. The Miata design is etched into the glass.
Its a stylish way to include your Miata passion as part of your holiday decorations!

Availability
| | |
| --- | --- |
| Miata Christmas Cards (3 designs) - box of 12 | $9.75 |
| Etched Glass Miata Ornament | $22.00 |
---
Copyright © 1996, Eunos Communications