Miata Technical Service Bulletin

Category
Applicable Model(s)
Subject

| | |
| --- | --- |
| Bulletin No. | 003/90 |
| Issued | 4/23/90 |
| Revised | |

F
1990 MX-5 Miata
Exhaust Manifold Heat Insulator Bracket Breakage
1990 - Vehicles with a VIN of JM1NA351*L0100001 through JM1NA351*L099999
Description
If you encounter a customer complaint regarding a rattling noise from the engine compartment, it may be the result of a broken exhaust manifold insulator bracket on the No. 1 cylinder side. When you find a broken bracket, replace it with the replacement bracket shown on page 2 of 2.
VIN of Production Change
The thickness of the production bracket has been increased since the July, 1989 production.
JM1NA****L0113830 - July 14, 1989
Parts Information
| Part Number | Description |
| --- | --- |
| B6Y0 13 468A | Exhaust Manifold Insulator Bracket |
NOTE:
Service part only.
---
Repair Procedure
Get a new bracket (P/N B6Y) 13 468A).
Remove the exhaust manifold insulator.
Remove the faulty bracket from the exhaust manifold. Carefully remove the old bracket where necesary with a suitable tool. Inspect the manifold for holes when finished.
Install the new bracket using the upper and lower nuts which fix the exhaust manifold at the No. 1 cylinder (refer to the illustration.)
Tightening Torque of Nuts: 28 - 34 in-lb (3.9 - 4.7 m-kg)
Install the insulator.
Tightening Torque: 69 - 95 in-lb (0.8 - 1.1 m-kg)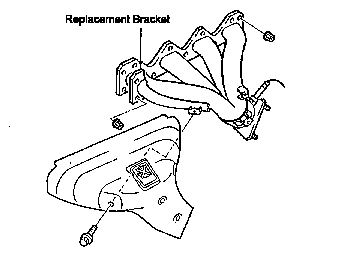 Warranty Information
| | |
| --- | --- |
| Warranty Type Code: | A |
| Customer Comment Code: | 82 |
| Damage Code: | 9A |
| Part No. of Main Cause | B6Y0 13 468A |
| Quantity: | 1 |
| Operation No. | XX0359-R-X |
| Labor Hour: | 0.4 Hr. |
---