Miata Technical Service Bulletin

Category
Applicable Model(s)
Subject

| | |
| --- | --- |
| Bulletin No. | 008/93 |
| Issued | 5/15/93 |
| Revised | 6/16/93 |

F
1990-93 MX-5
Rattling noise from catalyst
The revised portion of this bulletin is indicated by an asterisk (*). Please replace the original bulletin with this revised copy.
Applicable Models/Vins
MX-5 Models
1990 - Vehicles with a VIN of JM1NA****L0100001 through JM1NA****L0999999
1991 - Vehicles with a VIN of JM1NA****M0200001 through JM1NA****M0999999
1992 - Vehicles with a VIN of JM1NA****N0300001 through JM1NA****N0999999
1993 - Vehicles with a VIN of JM1NA****P0400001 through JM1NA****P0416222
Description
A rattling noise may be heard from under the vehicle. This may be caused by a loose catalyst insulator. Follow the repair procedures in this bulletin to correct this condition.
Repair Procedure
Lift the crimped edge of the insulator with a chisel
NOTE:
Do not raise the entire edge of the insulator at one time. Work in sections (complete steps 1 through 3 of this procedure for each section).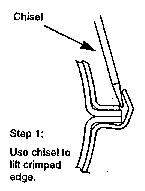 Use a plastic hammer to flatten the crimped part of the insulator. The insulator material should fit tightly against the catalyst casing edge.
Bond the insulator edge back down with pliers and then tightly clamp it with a vise to re-crimp the edge.

---