Miata Technical Service Bulletin

Section
Applicable Model(s)
Subject

| | |
| --- | --- |
| Bulletin No. | 001/99 |
| Issued | 03/17/99 |
| Revised | |

B (09)
1999 Miata
Block heater installation cautions.
Applicable Model(s)/VINS
All 1999 Miata
Description
When installing a block heater, observe the following cautions:
Caution
Be sure the element is maintaned at the 3 o'clock position, as shown, and that it does not rotate during installation.If the block heater rotates while being tightened, damage to the o-ring may occur resulting in a coolant leak. This caution is very important and is not stated in the early version of the installation instructions which were packed with the kit. The instructions in the current production kits have been updated to contain this caution. See illustration below.
Be sure to thoroughly lubricate the o-ring only with grease provided (silicone based) in the kit.Other types of grease will damage the o-ring.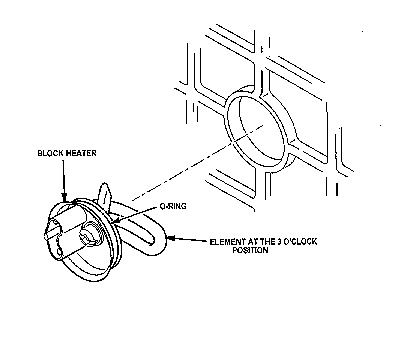 ---