Miata Technical Service Bulletin

Category
Applicable Model(s)
Subject

| | |
| --- | --- |
| Bulletin No. | 005/93 |
| Issued | 6/16/93 |
| Revised | |

J
1990-93 MX-5
1st and 2nd Gear Grind
Applicable Models/Vins
MX-5 Models
1990 - Vehicles with a VIN of JM1NA351*L0100001 through JM1NA351*L099999
1991 - Vehicles with a VIN of JM1NA351*M0200001 through JM1NA351*M099999
1992 - Vehicles with a VIN of JM1NA351*N0300001 through JM1NA351*N099999
1993 - Vehicles with a VIN of JM1NA351*P0400001 through JM1NA351*P0413073
Description
A grinding noise may be heard and/or felt from inside the shift change lever when rapidly shifting from first to second gear. The noise may be caused by the shift change lever.
The lever has been modified to correct this condition.
Replacement Procedure
If grinding is felt and heard through the lever, replace it with a modified lever.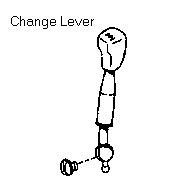 Parts Information
Part Number
Description
Quantity
New
Old
M524 17 510C
M524 17 510B
Change Lever
1
---