The National Miata Rock 'n Roll Ralley
August 24-27, 1995
---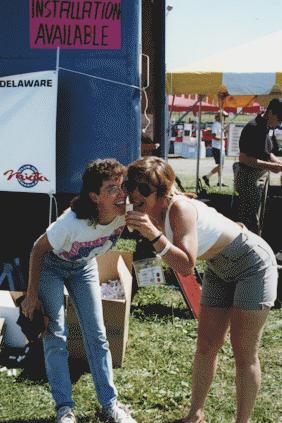 Dealer Alternative "babe", Teri Cardell, and DelVal's legendary Andi Goldt set the stage for a memorable weekend!
---
Stay tuned for the rest of photo retrospective. We need to get a scanner first. In the meantime, reb has put together some photos of the Cleveland event.
---
The Oscars
And the winner is:


Best Actor:	Andy Cork from Brainstorm products arrived in Cleveland and
		did a good job acting like a participant even though he's a
		major vendor. He didn't even have a booth!

Best Actress:	Delval's legendary Andi Goldt, ANDI JO, and Deep Throat - 
		Andi's Candoo Loud muffler - for acting like themselves!
		(Need I say more?)

Best Picture:	Delval's Dave Thomas was selling color copies of the July 
		1991 Playboy photo of a very special mechanic.

Best Screenplay: Friday night at the drive-in, while the 250 Miata maniacs
		were stuck watching some dopey Disney flick about a bear,
		the movie preview for "Showgirls" was showing on the screen
		behind us, featuring copious quantities of female flesh!

Best Costume:	Delval's Chuck and Cindy Hartwell arrived from Remulak with
		there coneheads exposed. They attracted significan attention
		since they couldn't put the top up even if they wanted to!

Best Dressed:	Delval, of course, who's 20 members showed up at the drive-in
		wearing "Doo Wop Shop" tee shirts.

Best Practical Joke:	After arriving at the hotel from a long, hot day at
		the track, Yours Truly went into the bathroom to shower and
		found 100 rubber roaches covering the floor, sink, tub, 
		and toilet. Joke was dutifully administered by Eric Evans.

Best Reaction to Practical Joke:   Finding some of the leftover roaches, 
		Dunlop Dave Shelton and P.J. Morris (from Butterfly Luggage)
		nearly hit the ceiling in the hotel lobby. Dave actually 
		jumped up and tried stomping on it. It was great!

Best Logo:	Delval again, for bringing 1000 Delval Tattoos which were
		quickly grabbed up by many of the attendees - including
		Tom Matano!

Best Tattoo Story:	Some guy walks up to the Dealer Alternative tent
		where Andi Goldt and the rest of Delval were hanging out and
		wanted to show his tattoo. He turned around and started to
		pull down the left side of his shorts! Not seeing the tattoo,
		Andi yelled "further!". He ended up dropping his drawers
		almost completely down before he realized that his tattoo was
		on the other cheek!

Worst Guest Appearance:	The Ghost of Lucas was in attendance, quickly attacking
		the PA system at the hotel on Friday, the PA system at the
		Crawford Auto Museum on Saturday, the portable bullhorn at
		the Hall of Fame on Sunday, and knocking out the lights on the
		top level of the Hall of Fame leaving about 25 of us in
		complete darkness.

Best Meal:	Dinner at some little family restaurant on our way home on
		Sunday night.

Worst Meal:	All the rest were tied.

Best Chapter Relationship:	Delval is a group that obviously loves each
		other immensely, which was evident when they all were seen
		chasing each other around the drive-in with Super Soakers!

Best Line:	After Yours Truly lost a Super Soaker battle with Conehead
		Chuck Hartwell, and after I remarked to Andi Goldt that it
		was cold in that wet tee-shirt, she yelled at the top of
		her lungs "Everybody blow Gary!"

Worst Line:	The food line at the Drive-in, which was an hour and twenty
		minutes long in order to get food!

Longest Line:	The police escorted caravan from the Hotel to the Hall of
		Fame. 250 Miatas driving down the highway with nothing but
		running lights is quite a sight!

Best Thing that *Should* have been Provided, but Wasn't:	Sleep!

Best New Product:	A new vendor, Motorsport for Miatas, had a lumbar
		support that gets stuffed behind the center section of
		the seat. It features an inflatable bladder with the bulb
		pump sticking out the side to adjust it to any firmness.
		At $72 for both seats including installation, it was the
		best money I've spent on the Miata in a long time!

Best New Promotion:	Barbara Beach announced the Miata Passport - a
		booklet that will be given out to new buyers so they can
		get it stamped by each chapter they visit. This sounded like
		alot of fun and seems to be a good way to get people to
		contact other chapters on their way around the world!

Worst Faux Pas:	Tom Stan of Northcoast, when the Ghost of Lucas struck the
		PA system at the museum, used *very* poor judgement by
		telling a joke that was in poor taste and extremely 
		embarrasing. I'm sure Northcoast was embarrassed by this
		and I hope Tom issues an apology.

Best Venue:	The Crawford Auto Museum, where Saturday's banquet was held,
		was an incredible place. One heckuva collection of sheet
		metal with hundreds of vintage autos including many 
		one-of-a-kind cars.

Best Vendor:	The Dealer Alternative, for doing installations of performance
		upgrades right there at the track. Bill Cardell was installing
		Jackson Cold Air intakes, headers, exhausts, and more 
		causing the buyers to pull out of his parking space with
		grins from ear-to-ear!

Best Hot Lap by a Net Geek:	Blake Palmer picked up third place in one of
		the categories (I forget which.) Congratulations, Blake!

Best Prizes:	There were some really great door prizes given out on Saturday.
		Among them:	A Robbins Glass rear window from Brainstorm
				Full set of Yokohama tires
				Full set of Dunlop tires
				$500 of a turbo from PBC
				Borla Exhaust from PBC
				Low profile headlight set from Brainstorm
				7 Piece set of Butterfly Luggage (I won it!)
				The Moss Motors 1990 Miata was given away!

Best Director:	Jane Schweitzer proved to be superhuman. She was running
		around non-stop to make sure everything went off as planned.
		Unfortunately, there were lots of things beyond her control,
		but the stuff she *could* do something about, she did superbly!
		I just wanted to take this opportunity to thank her publicly
		for the work she did to make this happen.