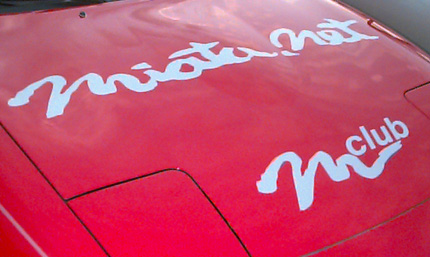 The Pit Stop Challenge!
Other Photos
---
From Lee Maddy, we have:
The Miata.net "booth". From left to right: Petra, Keith, Robin, Gary and Chris Lambert (?). The cars are Baby and Gary's anonymous Miata. This is one of the few times when Baby wasn't on the autocross couse.
Speaking of the autocross, here's Robin giving Baby some exercise.
The Coupe, the Speedster, and the Club Racer with various unknown individuals, and before the Miata.net stickers showed up on the Coupe and Speedster. All three showcars were sitting side by side, unlocked.
The Windy City chapter put together some pictures, as well.
Keith Tanner
---
Back to the Miata 96 Home.
---
Site maintained by Keith Tanner
email:keith@miata.net
All comments are welcome.