Mazda Unveils Miata Endurance Racer Concept "Mono-Posto"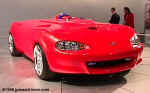 Intended as an "extreme expression of Miata's 'oneness between horse and rider'" concept, Mazda North American Operations unveiled the "Mono-Posto" concept car at the SEMA show in Las Vegas on November 2. A one-off, one-seat throwback to 1950s sports cars, the Mono-Posto was directly inspired by classic endurance racers including the Jaguar D and Lotus 11.
The car is the fourth concept Mazda has built using the Miata as a base vehicle, but the first to use the Mk II Miata. Previous Miata concepts have included the 1989 Club Racer, the 1995 M-Speedster, and the heralded 1996 M-Coupe. The Mono-Posto was displayed on a rotating platform as part of Ford Motor Company's SEMA pavilion. The pavilion marks the first time Ford has shown all its brands--Ford, Volvo, Lincoln, Aston-Martin, Mercury, Jaguar, and Mazda--in a single location under one banner.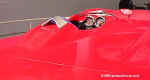 The car, which attracted a great deal of attention at the annual drool-fest for the automotive enthusiast aftermarket, is fitted with all the right stuff to make Miata lovers envious. Finished in a dazzling Red Pearl Mica, the Mono-Posto Miata has custom bodywork that includes half-doors, an air-scoop hood, one-piece front and rear fascias, a cowl-mounted rear view mirror, a minimalist windscreen and aluminum rollbar. So where's the Miata? The headlights, taillights, and rear decklid are stock, as are the silver Mazda emblems the car brandishes front and rear.
Assisting in the concept build-up was HKS of Carson, California, and the car sports many HKS add-ons. The standard 140-horse inline-four is force fed via an HKS turbocharger, with temps managed by a massive HKS intercooler. HKS also provides the intake and exhaust manifold, as well as the now de rigeur stainless steel exhaust, utilizing an oval, Boxster-like center-exit tailpipe. All of this adds up to a sports car worthy of the designation: 190 horses (a 36-percent increase) with an amazing 243 lb-ft of torque--the latter number more than doubling the stock figure.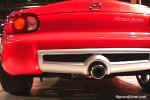 Finishing touches to the Mono-Posto include massive, how-did-they-fit-those-in-there 18-inch wheels from Racing Hart. The three-piece wheels (18x8 in front, 18x9.5 in rear) are wrapped with Pirellis (225/35ZR18 front, 255/30ZR18 rear) and stopped with the aid of Baer Racing 4-wheel cross-drilled discs and 4-pot calipers. All these goodies are kept on the asphalt by an HKS Hiper Damper Coil Over suspension. A Sparco steering wheel, gauges, and racing seat round out the interior.
---