Connecting with the New Zealand MX-5 Club
Bill Potvin & Linda Myers -NWOhio Miata Club
Our story actually begins in February 2001, when we first went to New Zealand and fell in love with the natural beauty of the country and the friendliness and spirit of the people. On that trip, we spent 2 1/2 weeks hitting the highlights of both the North and South islands by car and train. We vowed to return.
So it was that in January 2004, we took the long flight and started a 5-week tour entirely by car. It would have been great in a Miata, but practicality and the logistics of our itinerary led us to renting more mundane transportation in the form of a Nissan Sunny and Toyota Sprinter - think Corolla. Even so, the driving was fantastic. The West Coast of the South island is particularly breathtaking. Imagine the California coast highway with almost no traffic! Actually, though, the whole country is a driver's dream, with very few straight or flat roads. And, although the Kiwis grumble a bit about the condition of the roads, except for a few construction areas we encountered, they were free of potholes and in general of much better quality than most of our roads. But we digress.

The Miata connection began when we contacted the New Zealand MX-5 Car Club about a month before our trip was to begin. They have a great web site (www.mx5club.org.nz) and, after seeing the extent of the club activity, we emailed a short note, giving our itinerary and asking if any of the group would like to get together with us. We were overwhelmed! We received more than a dozen replies, containing invitations to meet for coffee, lunch, dinner, beer or whatever. We were also invited to stay at the homes of club members on our tour. In addition, our new internet Miata friends offered some great tips on sights to see, as well as car museums, racetracks and scheduled MX-5 events. We quickly replied to those folks who were near our planned route and made tentative arrangements to get together.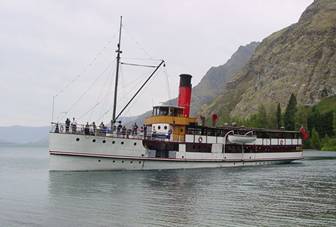 Our tour really began in Queenstown, the home of extreme sports, on the South island. People flock there for bungee jumping, skydiving, paragliding, daredevil jet boating, kayaking and white water rafting. We were content mostly with watching the crazies and enjoying a steamboat ride to a sheep farm on Lake Wakatipu. We were impressed with the statistic that New Zealand has about 3.5 million residents and 40 million sheep.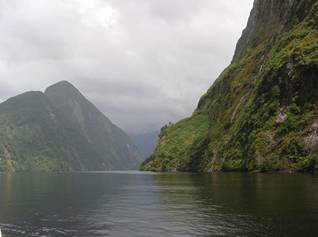 We then motored about a hundred miles over some great roads to Te Anau, where we stayed at a B & B on a deer farm (New Zealanders are much more into venison than we are and they export around the world). This was also our jumping off point for a fantastic tour of the fiord region, including the breathtaking sights of Doubtful Sound.
Next it was back north to Wanaka, a lovely lake town. A point of interest was a place called Monster Mountain Rally where for about US $60, you can strap yourself into a rally-
prepared Subaru WRX or Mitsubishi Evo and have a professional driver scare the hell out of
you on twisty gravel mountain roads. Being a former SCCA Pro Rally co-driver, I chatted up the guys about the rally scene in NZ, but declined the ride on the grounds that it seemed like cheating to 'pay for it.' Besides, I think I've pretty much seen it all, having spent a fair amount of time both on the wheels and on the roof.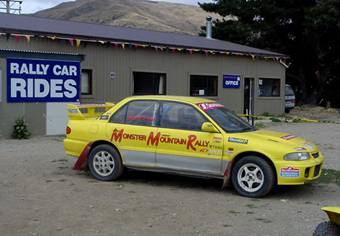 The next leg of our tour took us through Mt. Aspiring National Park and the beautiful Haast Pass at about 6000 feet, then down to sea level as we followed the coast road to the town of Fox Glacier. As mentioned above, this was some of the best driving of the trip. And this is probably a good point in our story to comment on a few subtleties of driving in New Zealand.
Rule #1: To avoid major problems, one should drive on the left, as is the Kiwi custom. This takes a little getting used to, but really isn't a big deal. Shifting with the left hand requires some practice, but what are a few 2nd to 5th gear changes among friends? The most embarrassing faux pas, though, is turning on the windshield (I mean windscreen) wipers when attempting to signal. Then there is the issue of narrow roads - never, ever leave your lane in the twisty bits - and some things we don't see much in the USA: a whole lot of one lane bridges and roundabouts. And don't forget the rather aggressive enforcement of the open road speed limit of 100 kph, although we were told that ticketing doesn't usually occur below 110 kph. The trick is that speed cameras are used, so your first indication of a 'gotcha' might occur when you get the ticket in the mail. Other than that, it's a piece o' cake. We're happy to say that we had no problems and no really close calls in nearly 3000 miles of driving É but we were a little anxious checking the mail for a while.
After poking around the Fox and Franz Josef glaciers (they conveniently come within about a mile of the main road), we continued north along the Tasman Sea, taking in some beautiful scenery, including the pancake rock formations and tidal blowholes at Punakaiki. It was then on to the lovely city of Nelson where we connected with the first of the many Miata owners we would meet on the trip.
The first thing we found out is that everyone there knows full well that the term Miata is used in the US. Of course the New Zealand Mazda MX-5 is essentially the same car, except for a few lighting and safety bits and that pesky right-hand drive. What we didn't appreciate before going there is that most of the cars in New Zealand are actually badged as Roadsters. It works like this: Mazda dealers sell the MX-5, so they can be purchased new, and of course used, in the domestic marketplace. However, something like 80-90% of the 'Miatas' in New Zealand are imported as used cars from Japan, and are, in fact, Japanese spec Eunos Roadsters. The reason is that lots of relatively low mileage imports are available at very attractive prices. Even with the cost of shipping, paying a broker and having the car inspected, the imports represent a value. Of course, some folks really want the latest and greatest, so they buy the MX-5. The interesting thing is that the Japanese spec cars have different options, special editions, etc, so it makes Miata/MX-5/Roadster spotting quite a game.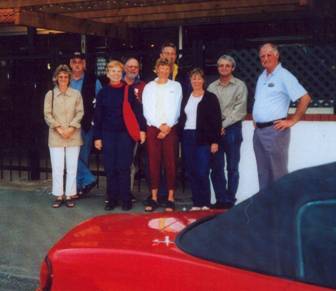 Our contacts with the Nelson Chapter were Jill & Kevin Allport. They had not only arranged for our motel at a super discount rate (Jill is the weekend manager), but had put the word out to others in the club that we'd be in town. So 10 of us actually met for coffee and chitchat. After the introductions, we all piled into our cars and did a short tour, including a drive into the hills overlooking the city and bay. We then went back to the motel bar to sample some of the excellent local brew and continue our discussions. The New Zealand MX-5 Club counts about 600 cars in their membership and has some 13 chapters with 20-30 in the Nelson group. The thing that impressed us most was how similar the attitudes were to the Miateers back home. No pretensions here, just a bunch of folks with a common interest in sharing experiences and having fun with their cars. We parted that night with a promise to get together the next day, since we had timed our arrival to correspond with the annual Lord Nelson Charity Parade.
This is an event to benefit the local hospice and takes the form of about 300 cars, including all manner of classic and specialty cars, driving a circuitous route through several suburbs and Nelson proper. Donations are made by the entrants and people line the streets, contributing to the charity as drivers stop and 'pass the hat.' It was a beautiful evening, being the middle of summer down under and, as the cars gathered, there was much oohing and ahhing at some very fine examples of British, German, Italian and American vintage cars.
There were about a dozen Miatas represented, including some of the folks we had met the night before. We were introduced around and used the time to learn more about the activities of the club and check out the various cars. Then it was off on the parade route, with our rather non-descript Nissan rental car surrounded by the likes of Austin-Healys, Alfa Romeos and Lotuses.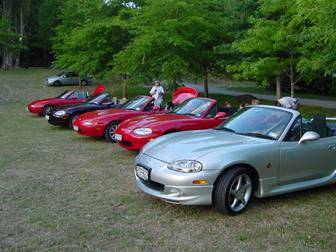 Each car had detailed instructions for the course and with that many cars, it would seem hard to get lost, but some people rose to the occasion and added a little mileage to the course. We ended at a park with lots of room to display the cars and the various marques attempted to stay together. It was a bit like herding cats, but most of the Miatas ended up in the same place at one time or another. As each car parked, the boot (trunk) would be opened and blankets were spread for the chilly bin (cooler) in preparation for our picnic tea (dinner). The end of the evening came too soon and as we parted, there were good wishes all around. We knew we had made some great new Miata friends.
The next leg of our tour consisted of dropping our car in Picton, taking the ferry across the Cook Straight to Wellington on the North Island and picking up another car there. This was easier and cheaper than transporting the car and all of the details were handled flawlessly by the rental car company. We had spent a good deal of time in Wellington on our previous trip, so we elected to head directly north up the Kapiti Coast. Another reason for this route was that we had been invited to dinner at the home of another Miata couple, Tony and Janet Jack.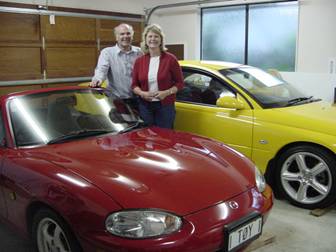 Tony had also suggested that we not miss the Southward Car Museum in Paraparaumu, billed as the largest and most varied vehicle collection in the Southern Hemisphere. After lunch at the museum, we took in the 150 or so cars and motorcycles that were on display. Especially notable were a Mercedes Benz 300SL Gullwing, 1928 M-B Model 38/250, a Morgan 3-wheeler, a Stutz Indy 500 car and a host of Bugattis, Maseratis, and other exotic marques. We followed Tony and Janet back to their house where we had a great time learning more about their country and their interest in the world's most popular roadster. Tony showed us his Miata, of course, which was parked next to a blindingly bright yellow Holden Monaro. This is the Australian GM car that packs a high output 5.7 liter V8 and is just now making its appearance in the US as the modern Pontiac GTO. As you'll come to appreciate, Tony isn't the only Miata owner that faces a tough choice when he goes out for a drive.
And now a few words about personalized plates in New Zealand: Just as in the US, a lot of MX-5 owners have them. There are some interesting differences, however. In NZ, you buy the plates, not rent them. You make a request and if available, you get the physical plates with the desired set of letters and numbers ' and they're yours! For life! You can move them from car to car, you can sell them with the car or you can sell them on the open market. At first they seem pricey at about US $350, but amortized over a number of years, it really isn't so bad. In fact, some people make a living dealing in these things. Just imagine if, a few years ago, you had bought the plate ENZO. What do think the owner of a brand new $300,000 Ferrari would pay you for that now?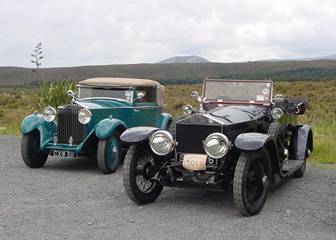 Well, our next stop was Taupo, a neat town situated on New Zealand's largest lake. Activities here include tramping, fishing and boating of all sorts. We spent a week winding down after what had been a fairly fast-paced 12 days of touring. During that time, we also visited Tongariro National Park, checking out its dramatic landscape, dominated by three volcanoes rising to nearly 10,000 feet. It's no wonder that this area was featured prominently as Modor in the Lord of the Rings trilogy. It turns out that when we were there, the orcs, elves and hobbits had been replaced by some very interesting (and presumably well-heeled) humans, driving some very interesting (and presumably expensive) cars. We had stumbled upon a group of about 40 Rolls Royce's and Bentleys that were beginning a world tour to commemorate the 100th anniversary of the marque. Most were of pre-WW II vintage and included a 1923 car built for the Prince of Wales and an all aluminum-bodied model (no paint), which was designed to survive the harsh climate of India. After several weeks in New Zealand, the tour will continue in Australia, then the UK and finally to the US. The cars will drive from the east coast to California, ending this eight-month marathon at the Pebble Beach Concours and Monterey Historic Races in August. Look for them on a road near you.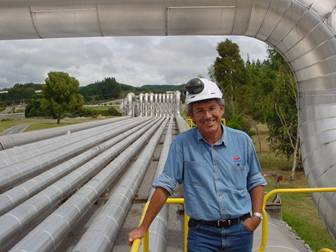 Our Miata contacts in Taupo were Murray and Barbara Stanley. Again, we were invited to dinner - aren't these Kiwi Miata people great - and heard about their experiences with the club. They have had their MX-5 since 1996 and Murray is currently coordinator of the Chapter in the Taupo area. Murray also has an interesting job as an engineering manager at the Wairakei Power Station. This is a tourist spot in itself, being the second largest geothermal power station in the world when it was built in 1950. Thus we were invited for a private tour of the geothermal fields and power production facility. (Actually, Linda declined with a comment something like, 'If you've seen one electrical generator, you've seen them all.') I, however, enjoyed the tour, adding it to my list of fossil fuel, hydro, wind and nuclear power plant experiences.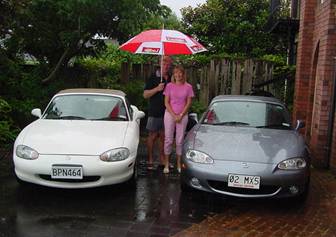 As we headed north, our next stop was Hamilton. Actually, we had not planned to go there, but again, we had received a very nice email from some Miata types and couldn't refuse the invitation. Alison Harold and Gary Wood have a long history with the MX-5. They bought their first in 1992 and Alison was president of the national organization for two years. They now have the distinction of owning six, plus an RX-7 and Mazda 6. I guess you could say that they're sold on them. Actually a couple of that stable are co-owned and they are being refurbed for sale. Alison and Gary are particularly taken by the special editions, having a 10th AE, 2000 Merlot (Mahogany in the US), a 2002 titanium gray and a white special edition available only in Japan. They had attended the 2003 Tokyo auto show (along with 1.4 million other folks) and so we spent some time looking at photos of a number of cars, including the Ibuki concept and the MazdaSpeed turbocharged Miata. We were really just passing through Hamilton, but we had time for a quick city tour and lunch. It was over that meal that Gary proposed an idea that I think might appeal to a number of US Miata owners. Since it falls into the category of future concepts with maybe a little blue-sky thrown in, I think we'll save it for the end of this article. Read on.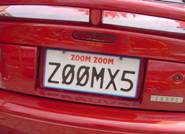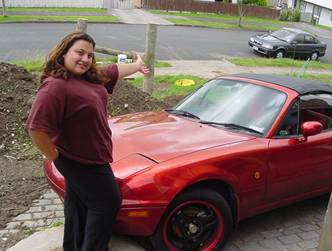 Auckland is New Zealand's largest city by far and that area is also home to the greatest number of MX-5s in the country. We had been contacted by several club members living in greater Auckland, but our plans called for only a brief stay in the area. We accepted an invitation to spend the night at the home of one of the most enthusiastic club members and her partner, Kleo and Blair. In addition, Kleo and her brother found a way to cook more food on a barbie than we could have imagined. We were joined for dinner by several friends, including another Miata owner, Tony Clarke. The great thing about all of these get-togethers was that we not only learned a lot about their Miata activities, but also about Kiwi attitudes and culture. Topics ranged from politics to Maori history, immigration, art, Kiwi healthcare, property values, and sports!
The next day we had made plans to drive to the Bay of Islands, an area that we had visited too briefly on our first New Zealand adventure. We made time, however, to meet with two more couples that had responded to our original inquiry. We were particularly keen on seeing Carl and Susi Brumback.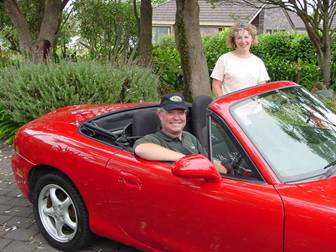 They are originally from the US and, in fact, lived for several years in Akron, Ohio, just a few miles from where I grew up. Small world, huh? They emigrated about 4 years ago and recently became New Zealand citizens. We met them at their beautiful house, overlooking Cockle Bay and got a lot of insight into their love of the country they now call home. Carl made the point, as had many of our new friends, that New Zealand is about the perfect place to have a Miata. The roads are twisty and smooth, the scenery is drop-dead gorgeous and the climate is temperate enough to enjoy these cars all year long, most of the time with the top down.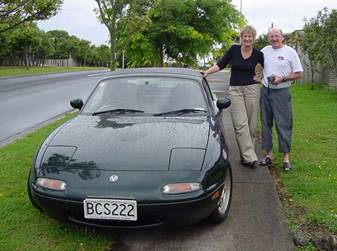 As we continued north, we stopped at the home of Nigel and Sally Every. They purchased their first Miata about four years ago, but boy have they been busy. We inspected numbers 7 and 8, both 1996 VR Limited models, imported from Japan. They are quite unique, being dark green with black leather interior, green tops and bronze-colored wheels. Only 800 were produced. They also showed us an album of the other Miatas they have owned, including a bright yellow model that Nigel won in a drawing sponsored by a radio station. Not to be topped, Sally had a red Miata that was used in a TV commercial. Nigel is currently editor of the New Zealand MX-5 Club newsletter, topDOWN, which is quite a handsome publication. Back issues can be viewed on the club's web site. As I am the editor of the NWOhio Miata Club's newsletter, the M Edition, we found a lot to talk about. We also found out that Sally's work may bring her to Canada in the future, so of course we invited them to check out the Miata culture in the US.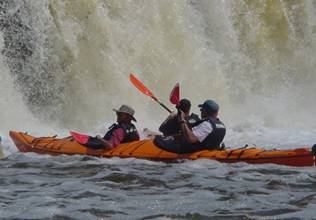 It was then on to Paihia in the Bay of Islands where we spent the next two weeks. This area has a bit of the feeling of the Florida Keys, with lots of water sports of all forms. The water and the islands are beautiful and, again, even in the height of the summer tourist season, things are not really crowded. We managed to do some swimming, kayaking, sailing, snorkeling and driving over some more of the island's great roads. This is also an area steeped in Maori culture and we were fortunate to be there on Waitangi Day. It commemorates the signing
of a treaty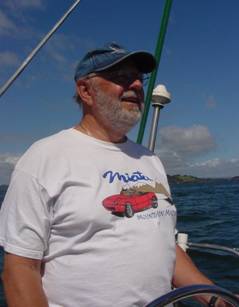 between England and the Maori tribal chiefs and is the equivalent of our 4th of July. Since we were staying within walking distance of where the treaty was signed, we joined the Prime Minister and a whole bunch of other people in the celebration.
We had a real surprise when we checked our email one day and had a note from Tony Clarke. His partner, Jan, had been away when we had met him in Auckland. She was sorry she had missed us, so they invited us to spend a couple of days with them, since we were to fly home from Auckland airport. We really couldn't change our plans, so we agreed to meet them for dinner at the airport before we left. It was fun seeing Tony again and meeting Jan and it sure beat cooling our heels at the airport for several hours. They wished us well on our trip home and it was with real mixed emotions that we boarded the flight.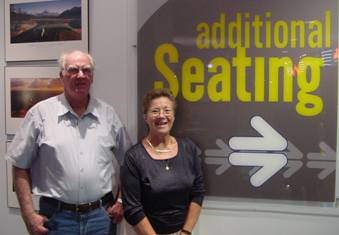 When we planned this trip, we knew it was going to be a great experience, but we never anticipated meeting so many nice folks through our common interest in Miatas. We thank each of our new friends for the terrific hospitality we were shown and invite any members of the Kiwi MX-5 club to contact us if they get to our part of the world.
* * * * *
So what did Gary Wood come up with at lunch that day? Well, he wondered if there would be an interest among US Miata owners in a custom-tailored New Zealand tour package. He was thinking of providing 3 or 4 Miatas (they'd be used, but solid cars) that people could rent as a group. He'd provide directions for tours of New Zealand highlights over the kinds of roads we all like to drive. The package could include accommodations and could be customized to fit the needs of the group. Gary's not a travel agent, but he has the kind of local knowledge regarding the cars and roads that would make this kind of trip very special. It's not very often that a great idea like this is developed without the influence of a few beers, so he may just have a winner. I'll be keeping in touch with Gary, so email me if this idea sparks an interest.
Good motoring,
Bill