Product of the Month - December 1996
---
Jay Lamm's
"Miata Universe"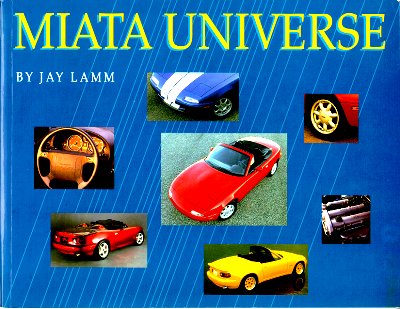 Jay Lamm is a respected, well known automotive journalist famous for his love of sports cars. His passions were fueled by his first car - a 1959 Triumph TR-3. Jay also owned an MGB roadster - and his love for the open-cockpit was firmly entrenched. Then came the Miata. Jay immediately recognized the vehicle that went on to rekindle the world's sports car passion.
In Miata Universe, Jay talks about the passion and the guiding principles that led to the design of the LWS - the Light Weight Sports project that went on to become the MX-5 Miata. Along with the history of the Miata, there are chapters about all aspects of the Miata world including the production history of the different Miata configurations, the Miata Club and the major events that keep so many of us occupied, and some thoughts on where the Miata is heading in the future. Other chapters compare the Miata to the other roadsters - both currently on the market and those planned for introduction in the near future.
Miata Universe provides an excellent look into the intangible forces that make us love our Miatas. Lamm's often witty style combined with first-rate photography make this a great gift for any Miata enthusiast. It is currently published only in softcover, although a hardcover version is being considered.

Availability:
Media Source
1315 Buena Vista
Vista, CA 92083
619-631-7474
| | |
| --- | --- |
| Miata Universe, by Jay Lamm | $29.95 |
---
Copyright © 1996, Eunos Communications