Product of the Month - August, 1997
---
Tamiya Radio Controlled Miata
---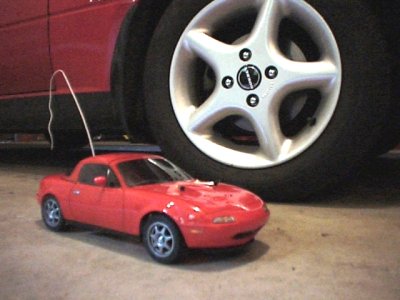 We haven't bought any new toys for our Miata lately, so this month we're reviewing a toy we bought for ourselves! Having seen the Tamiya Radio Controlled Miata a few months ago zipping through the crowd at Brooklands racetrack, we decided we just had to have one. This severe lapse in judgment may prove costly later, but for now, we're having a blast!
The Tamiya R/C Miata is a 1/10 scale electric racer which operates by a handheld radio transmitter. It begins life as a stripped down kit, containing a chassis, wheels with semi-pneumatic tires, suspension, an electric motor and drivetrain, and a clear molded polycarbonate Miata body. The instruction booklet consists of lots of Japanese characters and just enough pictures and English words so a hobbyist can put the model together. While it isn't a foolproof, step-by-step manual, its adequate enough for someone who isn't afraid of modeling.
In addition to the kit, the model requires electronics. A transmitter and corresponding receiver are required along with a couple of servos to activate the steering and throttle. Finally, a battery and a charger are needed to make this thing go. For the less ambitious hobbyist, the whole setup can be purchased pre-built and ready to run which, regretfully, we did. Regret? Well, we realized after buying it that it would have been more fun to build the whole kit. Besides, the experience of putting it together would have made maintenance much easier later. High performance R/C models are very sophisticated and need to be cleaned and lubricated regularly to keep them running. This requires a bit of teardown, so be prepared to tinker.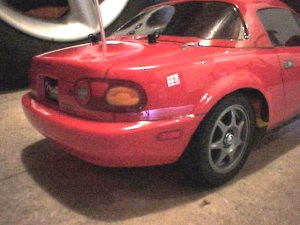 Our first encounter with actually driving the R/C Miata was enlightening. The big cul-de-sac out in front of the house suddenly became very tiny. A slight pull on the pistol grip throttle trigger sent the car flying across the pavement so fast that we barely let go in time to avoid slamming into the curb! Whoa, this is gonna take a bit of practice! We quickly decided to move to safer ground - a big, empty parking lot. At scale speeds of over 200MPH, the R/C Miata is tricky to control at first. The steering is extremely sensitive and a slight turn of the wheel quickly sends the car on a new course. Guiding the car away from the driver isn't too bad. The car steers in the direction you point it. But when its coming back toward you, you must remember to steer in the opposite direction - not a simple task for the newbie, we quickly learned. A few encounters with curbs and car tires were briefly heart stopping, but the lightweight plastic body seems to stand up well. Still, it does get scratched up and extreme care is recommended in the beginning.
A bit of searching about our new hobby turned up some interesting information. It seems you can purchase all sorts of "hop-up" options, like high performance motors, extra capacity batteries, oil filled shock absorbers, low friction bearings, etc., all with the goal of making your R/C car faster and more agile. We were looking for an option to slow it down and make it easier to learn to drive, but alas, there is no such thing.
The Tamiya R/C Miata is way too much fun for our own good. Now we need to find the time to pursue our "other" Miata hobby.
Availability:
| | Street Price |
| --- | --- |
| Model car only | $165 |
| Model with electronics | Starting at $270 |
---
Copyright © 1997, Eunos Communications