---

The MX-5 Miata of the Month from


---
September 1997
Mark Bolton
Congratulations to Mark on the selection of his Miata, as our September
Miata of the Month!

---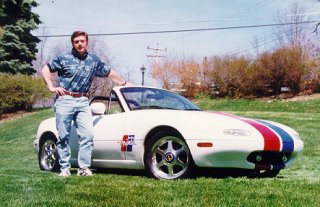 It was 1993 and I had a problem. I thought Miatas were fun looking cars but to be honest the only ones I really thought looked perfect were the British Racing Green ones. (My first car was a 1971 BRG MGBGT.) My second problem was that I didn't have the funds for a used BRG Special Edition. Then one day in the rest room at work everything changed. I came across an issue of Motor Trend with a selection of modified Miatas and there was this cool looking white one with red and blue stripes, roll bar etc. It was the Racing Beat car. This was in shooting range! I could easily get a used white one, then the trick would be doing the striping. A project car was born. In 1993 I acquired a low mileage white 1991 Miata from the local dealer.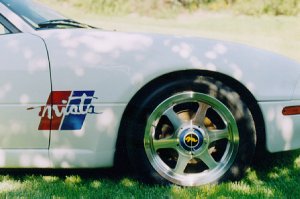 For a year and a half it waited for transformation. I didn't have the funds to do everything I wanted and the stripes were looking pricey. I actually put the car in the paper to sell it at one point. It wasn't the car I had dreamed of. I didn't like white ones, I liked white ones with red and blue stripes.
Then the miracle. I told a guy who volunteers in the church I work at what I wanted to do to the car.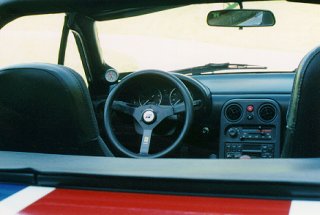 As it turns out, he works at a graphics display company that has all the goodies necessary to do custom vinyl and he offered to engage in the process of turning a plain vanilla Miata into my custom car. Ed and I did the custom graphics step by step to end up with what you see. Total cost of striping . . . $30 in materials and about 20 hours of labor.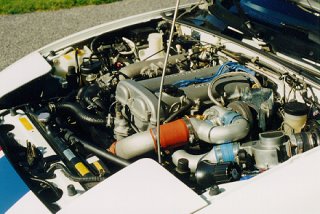 My Miata now has been transformed inside and out. It has Eibach springs, Tokico Illuminas, Racing Beat sways, Brainstorm Braces. It has the Racing Beat Style 1 roll bar, a Momo wheel I had in a BMW 3.0 CS in the 70's. I have installed a GReddy turbo kit, Walker Dynomax exhaust system, and a 160 degree thermostat. I customized some Manaray Sport S-06 wheels by redoing the nuts to look like the Racing Beat car and am running AVS Intermediate 195-50-15's.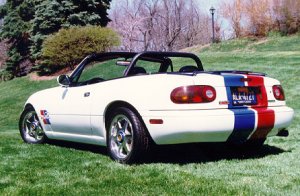 I cannot stop working on this car. It seems like most of the fun of a true project car is coming up with and implementing ideas. I hope yours is as fun as mine!

---
---
---