---

The MX-5 Miata of the Month from


---
December 1998
Allan V. Lavarro
Manila, Philippines
Congratulations to Allan on the selection of his Miata, as our December
Miata of the Month!
---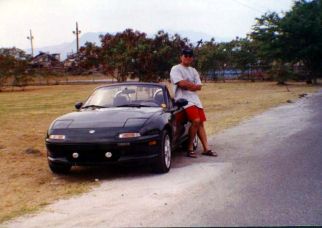 It all started with my first official car, a red Honda Civic Hatchback. What I mean with an official car is that from Day-1 it's already mine and not someone else's that was handed down to me. I was even the one who drove it out of the showroom.
"Cheri" (what I named her) was a surprise high-school graduation gift. I was really happy with it that I practically poured all my savings into making it look real different. I changed the steering wheel, shift knob, & mags to MOMO Course design equipment. I changed the exhaust system, lowered it, added some body kits. My stereo equipment were by Sony, Phoenix Gold, MB Quart and Lanzar. For someone living in the Philippines, spending close to US$6,000 on a car is ridiculous; especially since minimum wage over here is about US$ 7 per day.
When I was about to graduate from college, I realized that my car had become very impractical to use on a day-to-day basis because of its noise and ride height. I opted to selling it in the hope of getting an ordinary 4-door sedan with an automatic transmission. Selling it was my worst nightmare. With all the stuff I installed and replaced, it hardly put up the price of the car. To make it short, the market value of my car compared to a stock one didn't have a very big price difference. From then I vowed to never again spend so much since there's no way of getting it back.
Finally I sold the car and was ready to get a new one when my father completely changed my plans. First he thought of giving me one of the company cars (Nissan Sentra). It would've been fine except that it was a manual transmission. I was actually aiming for a Civic sedan with A/T. He thought again and decided to give me the responsibility for restoring his 1976 Mercedes Benz 280 C--Coupe. The only reason I accepted his offer was because he offered to pay for all restoration expenses. Having a nice, classic car with no expense to come from my own pocket isn't a bad deal after all; besides I get to go on with my hobby which is to dress and fix-up cars.
I used the Benz for about 2 years and eventually suggested to get rid of it because of the never ending maintenance expenses. Actually, the reason I wanted to sell it was to finally get my 4-door sedan dream. They had a nice deal with a MAZDA Familia (Protégé) with MAZDASPEED modifications. When I finally got to sell the Benz I excitedly went to my father and said: "Let's go get my new car." His facial response wasn't what I expected. I saw that same look again as if he had other plans on which car to give me. He goes: "Since you are the only one who is unmarried, and all you ride in your car with is your girlfriend, I'm thinking of giving you the Miata." I was like: "WHAT??!! That car is too small for me." You see I'm 5'11" and would forever like a spacious car where I can haul people and go out of town--a Miata just won't do the trick. My father was saying that he never realized how impractical the Miata was until he got it. He hated its size for one because his golf set wouldn't fit in the trunk. So he decided to transfer the agony and the feeling of having an impractical car over to me.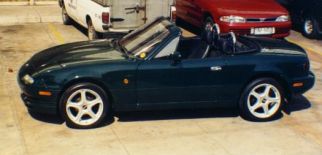 When I got the Miata all I could do was complain and complain. Although most of my friends were more thrilled with the Miata since it's a convertible (By the way, convertibles aren't very common in the Philippines) rather than my intended 4-door sedan. Most of my car enthusiast friends convinced me that a Miata is a much better car. What got me was when my friends (Chito & Raffy) gave me a lecture on the history of a Miata: of a European Heritage, the first Japanese roadster, the benchmark of a BMW Z3, etc. With that I spent countless hours in the Internet looking for various designs, concoctions and write-ups when I stumbled into Miata.net. After that web site and noticing all the Miata clubs all over the world I was finally convinced.
My Miata ("Ivy" is what I named her) is a '96 BRG that's either a European or Japanese version because of it's steering wheel (MOMO with SRS), rear fog lamp, a stock Hard-Top and a 91bhp--1.6l engine.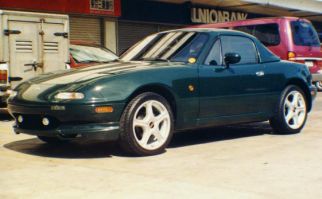 Carefully I searched for conservative designs to make my Miata unique. So far I've placed 16" Antera 143 Mags, Uniroyal Tires (205x45x16), 5-Zigen Chin Spoiler, K&N Air-Filter, RoadBoy Driving Lamps, Clarion Radio w/ CD Changer, Momo Elegant Shift Knob, Voodoo Handbrake Grip, & a Jewels-design double hoop Rollbar. I've already ordered a few more accessories from the States and Germany and can't wait for the arrival.
I can't believe I'm spending so much for my car again. However, since a Miata has more character than a Civic, I can easily justify my expenses. Driving a Miata is one experience I will never let go off. My smiles per mile is just incredible. I remember on the first weekend I got with the Miata I picked up a friend in the morning and drove off to the mountains just to cruise. All I can say is that it's a real fun car and that I'm now thanking my father for not getting me the 4-door sedan that I've always wanted.
Hey, it still ain't a practical car; but one thing for sure is that: You will not get the same driving excitement in a sedan!" Say "hello" Ivy!
---
---
---