---

The MX-5 Miata of the Month from


---
June 1999
Phil Rossi
Throop, PA
Congratulations to Phil on the selection of his Miata, as our June
Miata of the Month!

---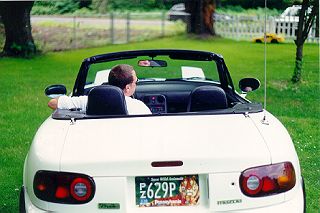 My wife and I bought about 3 acres of land approximately 15 years ago for practically nothing. At the time we thought we'd most likely be millionaires in making building lots for people to build houses on. After about 12 years and some tough times in our lives (one of them being) the birth of our second child Matty born with Down Syndrome 18 years after our first child Tina. I guess I was
going though the proverbial mid life crisis and wanted a top down sports car again. My wife and I have been married over 24 years and when we were dating I owned a 1971 Fiat 124. This car was what I might call a dream car for me at the time but it rarely ran. I still loved it.
Well, after my son was born I kept thinking about buying a Miata. Ever since I saw the ads and great reports in Car and Driver long before my boy was born. I thought this car might be a marvelous vehicle. Knowing that it handled, sounded and felt like an MG ran well and didn't break like one I thought this might be the perfect car for me. I'm not sure how many times the Miata was one of the top ten cars in Car and Drivers but it certainly was several times. Finally I decided that it was time for another top down experience to help cure my mid life crisis syndrome. I started to buy different magazines that had all kinds of convertibles in them especially Corvettes even though I knew in my heart that in fact I wanted to own a Miata.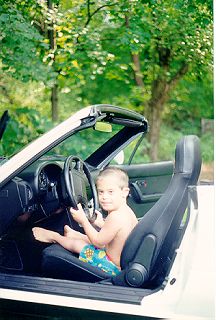 I started my quest of convincing my wife Cindy that I needed a convertible by leaving every magazine about cars on the bathroom floor with pages opened to where they needed to be for impact. Finally she said I think you really should look for a car if thats in fact what you'd like to have. With both of us coming from Italian backgrounds I felt it necessary that I expound on how guilty I would be if I was so selfish as to buy a car that was very impractical and we frankly could not afford. After much of this rhetoric my wife convinced me that I should go for it anyway. Needless to say that blessing was all I needed to start my search.
I began this endeavor in late winter of 1996. I started looking in my immediate area of Northeastern Pennsylvania but found that my choices for the kind of vehicle (low miles and babied) were few. Finally I expanded my search to Central and Southern Pennsylvania. My goal was to find the car I initially saw as being the first convertible that ran great, was somewhat fast, shifted great and didn't have a constant flu bug similar to the British cars of the 60's and 70's. After several months I found what turned out to be my 3rd child. Being a sales person on the road it gave me the opportunity to look at hundreds of car lots while driving. It was April of 96 and I was driving through a small town in Central Pa. named Temple and I noticed a White Miata up on one of those ramps that make the car sit much higher than any others in the lot. In looking at the car while driving by I thought man is that a nice car but I'm sure it's no older than 1 or 2 years and it would be unaffordable. I drove several miles past the dealership before I decided to go back.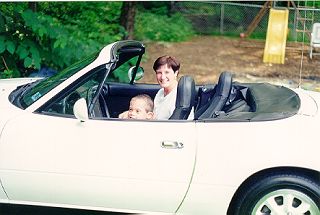 I went back. Asked what year it was and discovered it was a 1990. I said to the salesman that he must be mistaken. He informed without doubt that it was a 1990 that had only been driven about 1000 miles per year since it's birth. In fact the car was traded in for a Jeep and that at the time the owner was making the trade he didn't have the car with him because it had been raining and he wouldn't take the car out of the garage. If the dealer wanted to make a deal on the Jeep he would have to come to his house to look at the car because he refused to drive the car in the rain. The dealer did so and the deal was struck. Initially I offered the dealer $9000.00 on the spot (even though I didn't have $9000.00 in the bank). He flatly refused but said the car was priced at $11,900.00. This cost was obviously much higher than the book but, the condition and miles should demand that kind of price. I asked if he would take $10,000.00 for it and he said no but, I might consider $11,800. I was astounded that my negotiating skills were now starting to kick in gear in getting him down a huge $100.00. I left knowing surely that this was not the car I was looking for not only because I couldn't afford it but my negotiating skills were poor at best.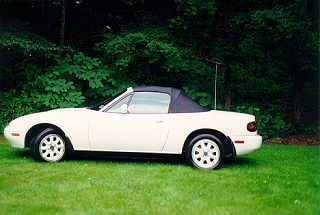 I got home 2 or 3 hours later a beaten man and let my wife know how crazy this dealer was and if that was the last Miata on earth I would not buy it because of the high price. She in turn said how did it look, how many mile etc. etc. I told her it was the nicest car that I'd ever seen. She said call him back and offer $11,000.00 if it was that nice. Of course I told her that I wouldn't buy that car if it was the last Miata on earth. So I called him anyway!!! I made my offer of $11,000.00 he flatly refused. I couldn't believe it. He said his best price would be $11,600.00. I told him the price was too high and that was an extreme price to pay for a 1990 Miata and hung up. About 10 minutes later I called him back and bought the car with $11,600.00 dollars I didn't have.
As I write this I fully realize the car was worth every penny of the price I paid. Also as I write, it sits not 10 feet away in our garage asleep not knowing that I've put it up for sale and hoping to find a good home so it can be a fun part of someone else's life and give the same amount of joy it's given me over the past 3 summers. It's been a light at the end of some of life's tunnels for me and those of you who can relate to what I'm saying will understand. So ends one of lives more enjoyable things. Excluding my family this hunk of metal has been a good friend to me especially that Miata's don't break down like Fiats.
---
---
---