---

The MX-5 Miata of the Month from


---
November 2000
Mike Pessoney and Heart
mpessoney@home.com
More photos

Congratulations to Mike Pessoney on the selection of Heart as our November
Miata of the Month!

---
Heart is a Red, '93, "B-Pkg" Miata with GAB shocks, a white top, and a spoiler. I bought it in 1998 after searching the Internet and pairing down a list of 125 for sale in the Alabama, Georgia area. It had 34k miles and Dayton Wires when I bought it. Now it has 93k and stock alloys. It ran into a pickup once and has its share of dings and scrapes. It is usually waxed and washed and ready for action. It is named Heart, like the big muscle that pumps blood and keeps me going, not for the valentine thing seen on bumper stickers.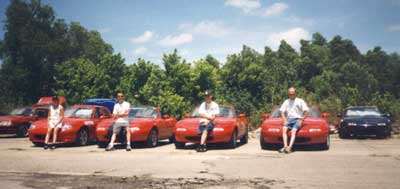 I am a 57-year-old software developer with a wife, 5 grown kids, and 6 Miatae in the family.
Heart is representative of everyman's Miata. It is no better or worse than other Miatae. I can't brag about how much it cost or how fast it will go or how rare or unique it is. It is not a status symbol. It's a legal, moral, responsive, open, economical way of putting a little joy into every day.
Heart makes me happy!
Most everyday I drive 20 miles to work and 20 miles back home with Heart. The instant start, the quickly warm heater, the grab of the clutch, the grip of the tires, the purr of the engine, the wind in my face, the involvement with today's weather, the looks on the faces of fellow drivers… combine to expand my soul. No matter what troubles I left at home and what troubles await me at work, the trip eases my mind and puts a smile on my face.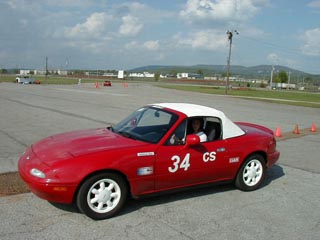 Some weekends I change to race tires and autocross. Heart handles courses so quietly and with so little fuss it looks slow to observers. You have to be onboard or look at the results to notice just how competent this car is. Other times I travel for business or pleasure. Seven hundred and fifty miles in a day with the top up or down redefines my horizons. The world seems bigger. Many more things seem possible.
A couple of times I've been to Deal's gap for the June gathering of Miatae and general fellowship and spirited foolishness. My first time I brought 2 of my sons with their Miatae along with Heart. Son Tom ran off the road getting to the gap, missed all hard objects, and stopped short of the cliff. Son John and I made him follow us through the gap. Son John won the autocross on Sunday. What a great time! This is not for the timid or others with good sense.
Several times I have met with up to 4 of my kids with their Miatae for regional or national autocross competition. So maybe we don't win but nobody gets more joy out of events than we do.
Last June I drove Heart from Huntsville Alabama to Fairbanks Alaska for an SCCA Autocross and to celebrate the summer solstice near the Arctic Circle. I heard about the annual trip on Miata.net one morning and asked my wife Ann if I could go to an out of town race. She said yes so I laid plans by using the alcan2001 site. I asked my local Miata club if anyone wanted to join me and sure enough, Fred said he would like to go. It took 23 days to drive 10,819 miles with Heart pulling a trailer over the continental divide maybe a dozen times. We camped at night; drove top down every day and each day was better than the last! Along the way, we met with Miata clubs and joined with a couple of other Miata treckers making the trip to Alaska from Minnesota and California. We stayed with some of the best people on earth in Canada and in Alaska and compared driving experiences. All that and snowcapped mountains, winding roads, the Alcan with the top down, camping on the banks of the Yukon, driving up Pikes Peak on the way home, … When does life get better than this?
Why do I drive a Miata? It makes me happy!
---
---
---