---

The MX-5 Miata of the Month from


---
June 2000
Mark Tan Boon Leng
Congratulations to Mark Tan Boon Leng on the selection of his Miata as our June
Miata of the Month!

---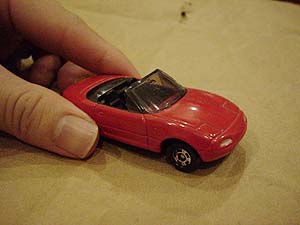 I am Mark Tan from Singapore. My love for the Miata started back more than 6 years ago. I have presently owned my car for 3 and a half years…till now, my enthusiasm for it hasn't even started to die off, on the contrary, my love for it is constantly growing….the only bad thing about it is that I really don't know how to let go of it.
Singapore is a nice, clean and green country except for the exorbitant price you have to pay to own a car. A brand new Miata cost almost US$90 000. There was no way I could afford a new Miata. At night was the only time that I felt that I really own a Miata so real. Every night, I would think of a colour I liked and then imagine driving it till I fell asleep. In the day, I had a very small model of the Miata in my pocket to keep my dream alive. I had many toy models of the Miata ranging from different scales to different material make. I had a favourite one which was a scale 1/18, made of die cast metal red Miata. Everyone, especially my parents thought that I was going mad!
It took me 3 years to get sufficient funds as well as a small loan from my parents to settle the down payment for the car. My parents were not really supportive of the idea of me paying so much for a car, especially a sports car. They were also the conservative type and did not like the idea of me driving a Miata which they thought gave the image of a "playboy". It really took a lot of persuasion and determination to get the money from working part-time after school and my parent's approval.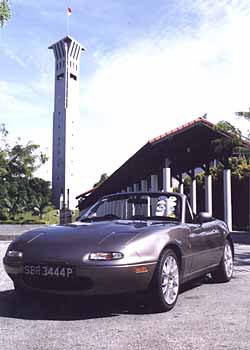 I finally bought a 5 year old red Miata for about US$48 000 three years later. It was the best thing that ever happened. I can still remember but I just can't describe the feeling. It was like a holiday everyday. It seems like Sunday to me everytime I stepped into the car. Even today, a lot of people still ask me how was I so willing to buy a car that was so impractical and yet not cheap. There was only one answer to that question.
Feeling is something which we cannot buy easily. If something can make you happy and you can afford it, you should buy it. Just like music where they are people who would spend thousands of dollars just to buy a sound system. Why? Simply because music can make a person feel. Feeling is something so intangible that it is hard to acquire. And when given a chance you find something that gives you feelings (nice feelings ,of course), you shouldn't let the chance go. Everyday when we go to work, we all know what a Monday feels like….that why they can call it Monday blues! Now imagine you have something that makes you feel like Sunday everyday….when you leave for work in the morning, it feels like Sunday. When you leave the office and step into the car , it feels like Friday night…..every single day and night. Now isn't this what everyone should have, a Miata?
Now any Tom, Dick or Harry would feel happy when he or she has something new, but the important question is how long will they feel this way? I can't say for others but I can say for myself….I have owned this car for three and a half years, I have never grown tired of it but am still falling in love with it every single day. The only problem is how can I do without it?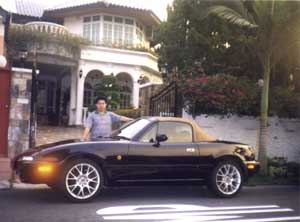 Last but not the least, I would like to share my personal experience with you about how my Miata saved my life. I met with a major accident just recently. I was driving on the highway when suddenly a motorbike cut into my lane. In order to avoid him, I braked and my Miata skidded on the pavement and crashed into a canal. The miraculous thing was that my Miata was totally smashed but I walked out of the accident alive with no injuries what so ever. The exterior of the car, especially the front was a total wreck. The only thing intact was the cockpit of the car where I was sitting.
The incident left me stunned for a few days. After recovering from the shock, the workshop informed me that the damage was rather severe and estimated cost was about US$12 000. I did not have a hard time to decide whether to do the repair or scrap the car. I was going to restore it back to its previous glory. A lot of people say that it was really silly and that I could easily replace it with another one. But to me, it was not just a machine, it was more than just a car, it was a friend who brought me happiness and saved my life.
Till now, it has still been with me …while I have been visiting it in hospital (workshop), it brings great joy when I see it recuperating (being repaired). It was originally red when I first bought it, became titanium silver before the accident and now it is orient blue in colour.
Mark

---
---
---