---

The MX-5 Miatas of the Month from
---
August 2002
The Miata Power-Lunch Group
Nigel Soult (boostedmx5@aol.com), Lee Bohon (lbohon@qx.net), John Gassett (eunospeed@msn.com), Mike Shepherd (mshepherd@ddfky.com), Greg King (greg@kingandcom.com) and Jim Sawyer (jim@sawyersdowntown.com)
Congratulations to the drivers of The Miatas Who Lunch on their selection for the August Miatas of the Month!
---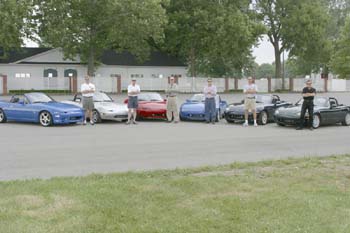 As we all know, the Miata is a great car stock. It is well balanced and a lot of fun to drive. However, it is so inexpensive and well built that it is a great car to modify. Under the right circumstances, modifying it can be almost as much fun as driving it. This is the story of how the modification of Miatas led to some great friendships that would most likely have never occurred otherwise.
Here in Lexington, KY (population approximately 300,000), we have our own Miata "Power-Lunch" Group. It started with 2 people and has grown to 6 over the past few years. We meet every Thursday for lunch and although the discussion topics vary they almost always revolve around our Miatas.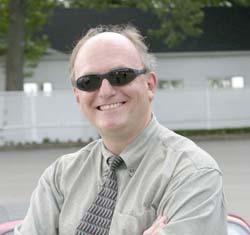 In the beginning, there was Nigel Soult. Nigel is a photographer by trade, but his knowledge of autos is really amazing. He can think up and build almost anything. Nigel bought his 1991 Red Miata in August 1994. He is the founding member of our group and is without a doubt the wildest member as well. Nigel put a Sebring Supercharger on his car in December 1995 when it had 42,000 miles on it(before Jackson Racing sold the kits). He has modified just about everything about the kit since then. He even blew up his original motor at about 134,000 miles, but the blower is still going strong. Currently, Nigel runs about 12 psi of boost with his kit and his most recent dyno run was 180 rwhp. He runs a BSP intercooler that he originally designed and sold the rights to Brainstorm Products. Over the years, he has been through about 10 different clutches I think......they don't seem to last long with his driving style! Currently, Nigel is working on a new custom set-up with the larger M62 blower that Eaton makes. Nigel started on the M62 project back in the fall, but some delays with some custom work from a machinist have put him behind. I fully expect him to have that system up and running by mid-summer. I don't think he is too happy being slower than a couple of the turbo cars in our group and that may change once he is finished with his custom kit. His car is a daily driver for him.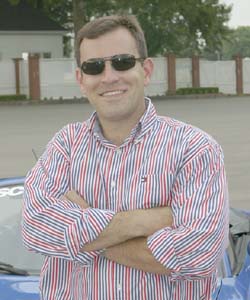 Nigel recruited Lee Bohon over to the "dark-side" of Miata power modifications. Lee has a 1991 Mariner Blue that was originally owned by his wife Natalie. Lee kind of stole the car from her over time. Lee is an engineer with Lexmark (a computer printer company) by trade and is really a guru about these cars. If you have a question about how to fix something, Lee can normally tell you in detail how to do it from memory. The reason Lee can do this is because he has broken just about every single thing on his car! This list includes 6 different turbochargers from Aerodyne (ask Lee about this, he just loves to tell the story!!), a destroyed transmission, broken rear differential, two failed external wastegates, blown boost solenoid, and an oil leak that caused him to have to pull the motor completely out of the car to fix. The list goes on, but I would run out of room. Lee currently runs an FM III turbo at 15 psi. I think he'll blow up his motor before this turbo dies. All kidding aside, Lee has helped everyone in our group with a modification or two here or there. If he ever started charging everyone he helps with their car, he would have a healthy second income. His Miata has been a daily driver for years, but has now gotten a well-deserved rest. A Subaru WRX is now the daily driver so the Miata can just be the fun car. This lets Lee do even more extensive projects on his Miata!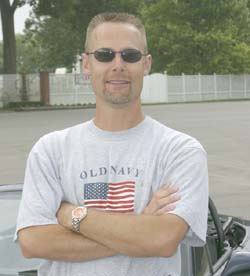 Lee recruited John Gassett to the "dark-side". John and Lee both work at Lexmark, but had never known each other until one day when John noticed a boost gauge on Lee's relatively "sleeper" miata out in a remote parking lot. Once he made contact w/ Lee, it wasn't long until the modification bug got hold of him. John had a white 1995 that was soon equipped with an Aerodyne turbocharger set at 10 psi. He had it perfectly tuned and it would really fly. Unfortunately, John's 1995 had a large disagreement with a tree. The tree won the battle. Luckily, no one was hurt, but the 1995 went to the Miata graveyard. After John and Lee stripped all the interesting parts off John's 1995, John went searching for another car. He looked around, in the end, ended up deciding on a new Twilight Blue Mica 1999. John immediately installed an Aerodyne turbo on his 1999, but didn't like the kit, so he sold it. Right now, John is running the base Jackson Racing supercharger on his car. He went for a while with no forced induction on his car, but too much peer pressure from the group led him to the JRSC purchase. I think John plans the addition of a TEC II or TEC III at some point in the future, but right now, he is just happy to have some extra power back under the hood that he can tinker with. His car is his daily driver.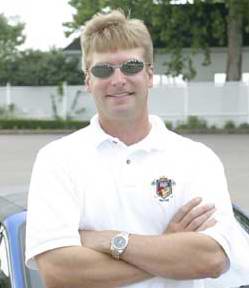 That brings us to me, Mike Shepherd. Lee and Nigel were responsible for recruiting me. I am a partner in a local CPA firm by trade. I own a 1991 Mariner Blue. The car is a complete twin to Lee's car. There are so many similarities, that the fastest car is usually determined by which of us had the lightest lunch that day. When I purchased the car in 1997, it was virtually stock. My modifications started when I installed a base Jackson Supercharger. It was unfortunately not enough to satisfy me. I modified the SC with different pulleys and an intercooler and had it producing over 160 rwhp at 10 psi of boost. It was fun for a while, but I got tired of having Nigel and Lee run off and leave me everywhere we went. So, I sold the whole set-up and installed an FM II turbo. Not much has walked off and left me since. The FM II has been perfect for me so far. Lee spent a bunch of time helping me install both forced induction systems on my car and he often gets a "question of the day" from me via email on different automotive things. My car has never been a daily driver. I bought it as a fun little car to drive only in the summer, but it has become so much more to me than it was originally intended.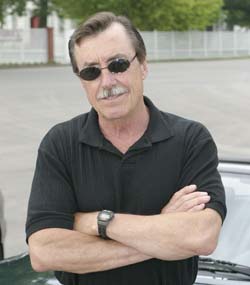 The fifth member of the group is Greg King. Greg is the president of a local communications company by trade. Greg owns a 1999 Emerald Green that he purchased from "A Mountain of a Man" (inside joke), in Washington DC. I recruited Greg into the group, but he did not take too much coaxing. Greg is the only one in the group without forced induction right now. However, that has not kept him from modifying the car. From a header, aftermarket exhaust, new springs, shocks, racing tires, sway bars and a roll bar, Greg still spends plenty of time tinkering with his car. The same miata-mod spirit has grasped Greg just like the rest of us. I have a feeling Greg will likely end up with an SC of some type on the car at some point in the future. Only time will tell. Greg's car is a daily driver.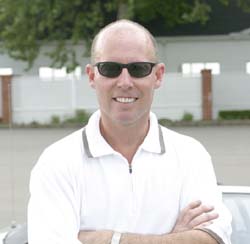 The last member of the group is Jim Sawyer. He is a restaurant owner in downtown Lexington and the miata "power-lunch" group meets at his restaurant quite often. I have known Jim for years, and he's always been a big "car guy", but has always favored BMW's. In fact, Jim has owned 13 different BMW's in his lifetime along with 20 other cars. Jim always liked the Miata, but I never could talk him into getting one. Last year, Jim got heavy into auto-crossing and kept noticing what good times the various Miata owners both stock and non-stock kept producing. Over the winter after looking for various different cars to purchase for "autocross only", Jim settled on getting a Miata. After a few months of searching he found a 1990 Silverstone loaded up with all the goodies, FM II turbo, shocks, roll bar, the works. Jim made the purchase and has been a fanatic ever since. His Miata is now much more than the original "autocross only" car he was looking for.
That's the group. After having lunch every week, you would think we would run out of things to discuss. However, the lunches almost always run 1 ½ hours and we generally leave with several items un-touched. Work sometimes gets stressful for all of us, but we always look forward to these lunches. Our ages range from 30 to 61. We range from being married with 3 kids to being single with no kids. Once we get to lunch, we are all the same.
In addition to the lunches, this group has been to several events together. We went to Deals Gap for the annual Miata gathering. We've taken several road trips to a local drag strip about an hour away from where we live. We've been to Putnam Park racetrack to run our cars on a road course. In addition, we run Solo II a bunch. With the exception of Greg, we all run in the new SM2 class. It is a lot of fun, because we are all very good, but not great autocross drivers and improving all the time. You never know who will win the event until the last one of us finishes his last run of the day. We've earned quite a reputation in our region for, well, "having the most fun" while autocrossing. We've never met a cone we didn't want to hit. Being the fastest is secondary to having the most fun.
If it were not for the Miata, many of us may have never met. Certainly, we would have never gotten to be good friends. We all plan to keep the cars indefinitely. When things break, we replace them. The one thing that cannot be replaced is the friendships that unexpectedly came with the cars.
---
---
---