---

The MX-5 Miata of the Month from
---
November 2003
Phil Pugliese and Ghost
p.pugliese@verizon.net
www.cardomain.com/id/s10ae
Congratulations to Phil on the selection of Ghost for the November Miata of the Month!

---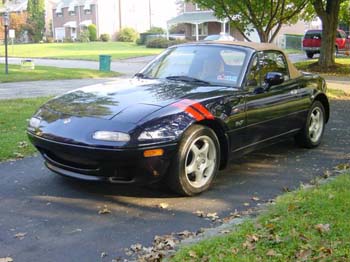 My Miata life all started on a whim, I bought a 90B for my wife as a late Christmas present back in 99 when the car was traded in at the dealership that I work at. The car was battered, bruised and every panel was dented and a different shade of red. After commandeering it for myself, I sold it few months later and replaced it with Yuengling, a 92C package. About six months later Yuengling was totaled when someone ran a stop sign. My 3rd Miata, Fuente, a 96M was a tougher find. I looked high and low for a suitable replacement for Yuengling, I looked in Georgia, California, Kentucky and Maryland. I finally found him with one of my wholesalers in New Jersey. His story can be found here. Fuente was originally to be a 3rd car, but more and more he became a daily driver. With that, I decided I wanted to be in a Miata that was a tad more refined. So on to the world of NB's.
I always liked 10AE's since the first time I saw one. The interior blew me away but combined with the exterior it was a tad too much blue for me. I thought, boy wouldn't that interior & top look great in a silver car. In looking for a suitable replacement for Fuente the thought of a silver 10AE was always in my mind (along with a 01 BRG). I found a real nice silver 99 PEP in (again) New Jersey. This one had something that I always thought looked great on a Miata, a factory hardtop. I brought the car home, said my goodbyes to Fuente, hellos to his adoptive father and then I moved on. At this point, I figure the 10AE transformation will take some time and I will find a steering wheel here.. floor mats there and seats on ebay or such. I have plenty of time.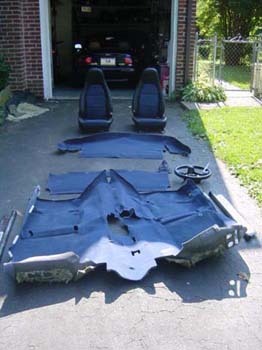 My wife tells me "when something is meant to be it will all just work out as it should" and since my wife, Lola, is much smarter than me I tend to listen (most of the time). A week after the 99 came, home I get a PM from a fellow LVMOC club member with a link to 10AE seats on Ebay... the HUNT has begun! I pull it up the auction then I check out "sellers other auctions"… BINGO! He has not only the seats, but the floor mats, boot and steering wheel all listed! I shoot him an e-mail and ask what he wants for the lot of them. The seller gets back to me with a price and says that he will also throw in the carpet (IMO the toughest piece of the puzzle to find) and the shifter boot. I call him back with my credit card number and a ship to address. While I have him on the phone I ask if he has the top. "I sure do" was his reply. "How much?" I ask. He tells me a price that is well above market value and I pass.
I am still shaking with excitement when I call Lola and tell her of my/our good fortune. She asks about the top. Being fiscally responsible I mention that I passed on the top using the rationalization that the top will be down most of the time and the black will be "fine" and I can live with it. Silence comes though the phone. "What are you stupid?" is her initial response. "You are going this far, why not do it right and get the top. You are breaking up a family of parts, it is bad karma. Call him back and just get the top!" I do have a wonderful wife or what? I call back and get the top (at a more agreeable price). With the help of Mosca and Miataflier the interior goes in without a hitch and all in less time than two 6-packs.
Life is good and now in the spring I will work on the polished wheels and (maybe) the "sport" suspensions. Spring…Yeah…Right. I find the wheels in Miata.net classifieds a week later. Then within a few days the suspension falls in my lap. The suspension is the interesting part. A few days after I line up the wheels, I get a call from Miataman90 telling me he was putting a 6-speed tranny in his 90. We are talking about both transformations and he mentions the transmission and differential are coming from the same salvage yard in Ohio that my interior came from. I asked if it came out of a 10AE, he asked how I knew. I tell him the story. When he gets the transmission (along with the differential) shipped to him it comes with the (now my) whole rear suspension set up. He calls me and asks if I want the Bilsteins and springs and I say sure. Now a phone call back to the salvage yard to get the front shocks/Bilsteins and tower brace. They are in transit as I type.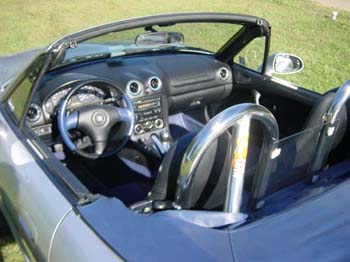 What is a 10AE without badging? Fortunately the paperwork from the salvage yard included the10AE's VIN. One call to Mazda, I have the production number then off to my local Mazda dealer to order the fender badge. When I get there, I am told "8 to 12 weeks to get the numbered badge". I am really not surprised but as smooth as everything else went I kind of expected them to have it in stock. But anyone can tell you, I have the patience of a saint.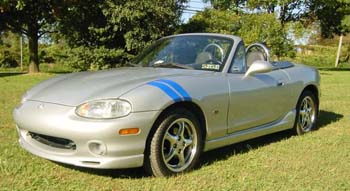 I have always felt that the Miata is a clean piece of canvas and us as owners supply the paint. I am really proud of what I have done so far with "Ghost". Miataflier reminds me not to cross the line of "Don't confuse what you can do as far as modifications and what you should do". I have a few other things in mind but I will be sure not to take it too far. I was sure that I would keep part of my Miata identity with the fender stripes that I started on Fuente. Ghost sports blue hash marks to stay with the theme. Now, what is the paint code for Sapphire Blue Mica?

---
---
---