---

The MX-5 Miata of the Month from
---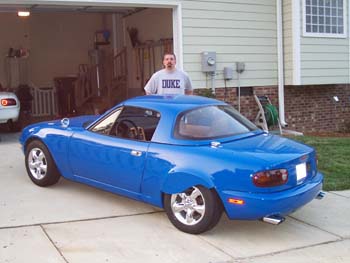 July 2005
Ed Labajetta
Congratulations to Ed on the selection of his "English Edition" Miata as the July Miata of the Month!
---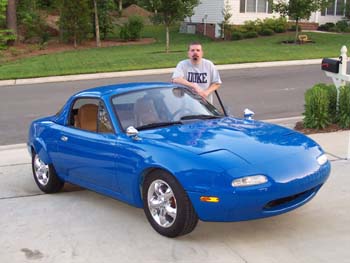 My wife and I used to live in the country on about 7 acres. It seems that word got out that we were sympathetic to strays, so it came to pass that we would adopt these strays, patch 'em up and find them a home. When we moved closer to civilization, there were no more strays, so we (read " I " ) began adopting poor, neglected Miati. The photos are of our 1990 Mariner Blue. Our 6th Miata and 1 of 2 currently. This poor thing was advertised in the local paper by a college student who felt it necessary to find more "up to date" conveyance. Upon answering the ad, I found a poor, neglected Miata, never garaged, filled with pine needles and a fire ant nest somewhere between the rain rail and who knows. The top was terrible (and eventually was removed entirely so that it is now either hard top or no top). The interior suffered from neglect. No rips or tears, just filth.
My emotions kicked in and I knew I just had to save this poor thing. It needed a good home and a warm garage. Once safe from further abuse, I gave it a good looking over. Lesser marques may not have survived, but this was a diamond in the rough. First order of business, remove the wiper blades,
sand and repaint, remove interior bits and pieces, replace broken (No kidding) radio bezel and scrub, scrub, scrub. All three shift boots where replaced, brakes, rotors and tires on all four corners, new springs and shocks.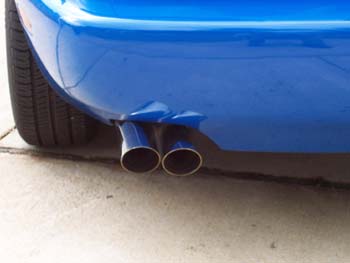 Now lets get to the good stuff. I had put dual exhaust set up on a past Miata and I wanted to do it again, but I wanted something different. What it now has is new pipe from and including the cat., Borla dual exhaust with the tips cut off. Welded in their place is a set of Pacesetter twin tips. Ahh, now we're getting somewhere.
Ever since the Miata first came out, I have wished that Mazda would have done a "Retro Edition" or perhaps,"English Edition". I have always thought that a set of fender skirts would look great. I would give it a try. I worked up a few ideas and search for someone interested in the fabrication. What I found was a young guy (Jerry) who apparently loved to dabble in this sort of thing. I think he got far more than he bargained for! The work he did was great, but WORK it was!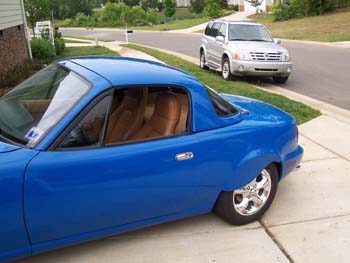 Once the fabrication was complete we decided that it was a good time to repaint, so we went with the original Mazda code Mariner Blue (DU). It was during this time that I decided to have the car deseamed, remove the mirrors and antenna. Those holes would just be filled and smoothed. The decision to remove the mirrors was made when I took the originals off for some touch up and saw it without the mirrors. I loved the look! Harking back to the skirts and my love of old British iron, I set out to find a set of chrome bullet mirrors which I found and mounted out on the fenders. In my opinion, the look is incomparable.
You will see in the photo's that this 1990 has tan leather interior. The original interior was black cloth, however, the hard top that I purchased was impossible to pass up and had the rear defrost and a tan head liner. I had two choices, dye the head liner black or...... you guessed it, what the heck?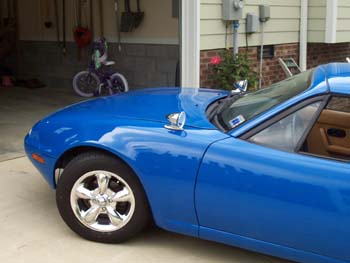 The wheels are an entire story in and of themselves. My original plan calls for a set of smoothies with baby moons. I will tell you that there are no off-the-shelf smoothies available for a Miata. Boyd Coddington wanted $3400 for a set of custom fabricated smoothies! I went to a manufacturer out of California and they indicated they could do the job for far, far, less. Great. All that I will say is that it was the most miserable customer service experience in my life. Phone calls went unreturned, promises for delivery not kept, wheels shipped with the wrong bolt pattern (ignoring my 4 X 100 spec), wrong offset, etc. Long story short, nothing worked. I am still working on getting my account credited. So, I was forced to go with a set of very nice wheels from American Racing. Very nice, but I didn't want to go off the shelf with the wheels.
I should have it back on the road, finally, this month. Enjoy the pictures.
---
---
---